If you're anything like me, by now you are feelin' ready for cool weather and cozy sweaters and warm drinks all day and into the night. I mean, I really shouldn't complain because our summer was relatively mild, but I'm going to anyway. Because its FALL and I'm sweaty all the time OK.
And getting dressed for warm weather when you want to be fall comfy is so annoying to me, no matter how hard I try to be realistic and embrace it. So the only thing I can think to do at a time like this is be patient, and while we wait wait wait for nicer weather, we can give a little nod to fall — and hope it eventually nods back.
LOOK #1
Sheer knits
This cardigan has been a champion in my closet the last couple of months. It's made of a knit linen, so it's super lightweight and it comes in so handy when running errands or eating out, because you know how irritating it can be when you're going back and forth between the heat blasting outside and the A/C blasting inside. It seems even on the hottest day, I need to carry a little something with me. And it easily fits in my purse when I get hot and need to shed that extra layer. Also: I am officially my grandmother.
Cardigan old by Eileen Fisher (Similar) / Dress old by American Apparel (Similar) / Flip Flops by Waltzing Matilda
LOOK #2
Kimono
Another easy way to add an additional layer without overheating is a kimono. This one is linen and was made by one of my Instagram friends. (I am eventually going to try and make another one similar to this and I'll be sure to post a tutorial for the seamstresses out there!) But I like that it's big and loose with no ties or buttons or any complications. Over a cotton dress, it just hangs open and allows air to pass through, keeping me on the cool side.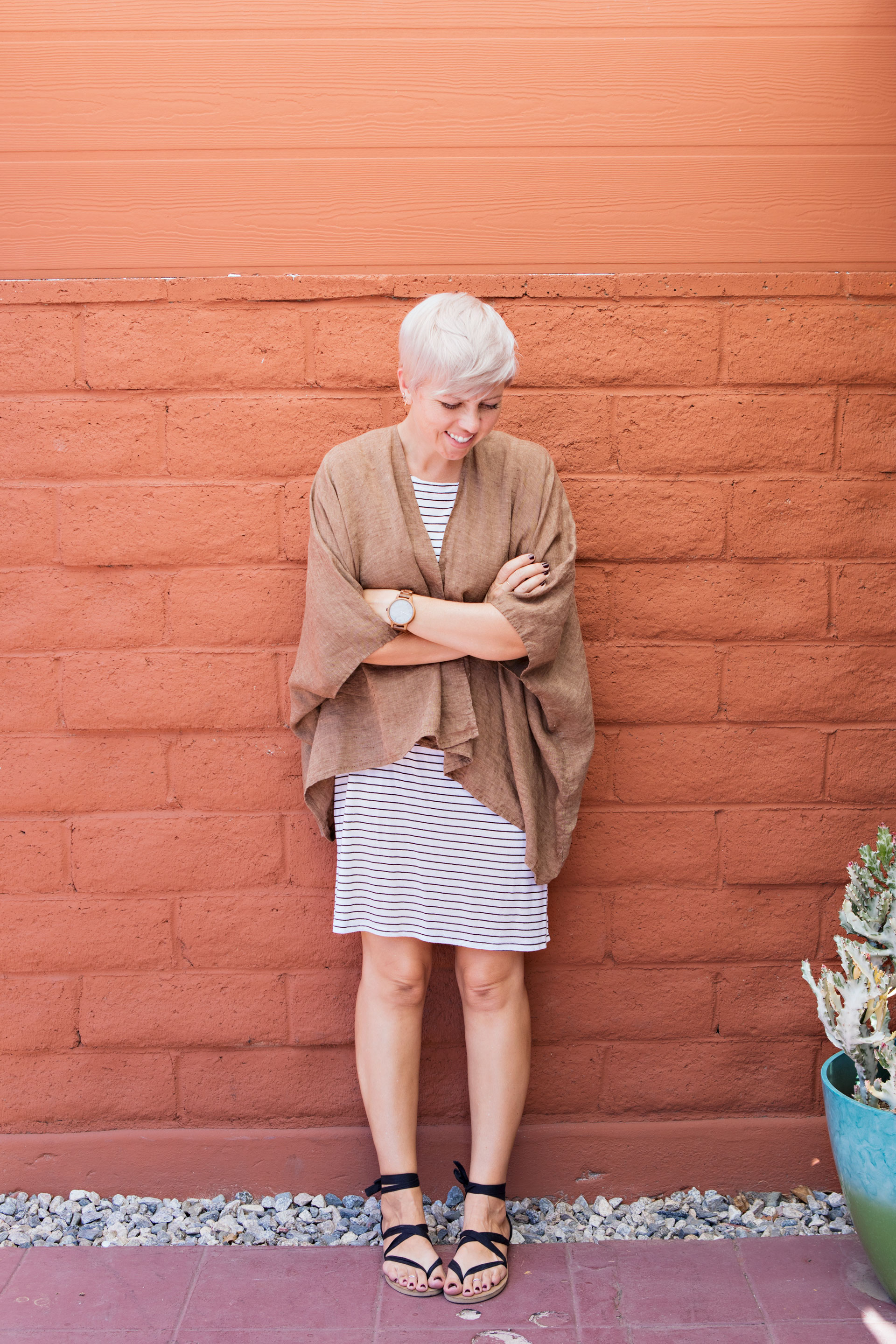 Linen kimono by Root + Wing (Similar) / Dress old from Target (Similar) / Ribbon sandals by Sseko Designs
LOOK #3
Sleeveless jacket
It's no secret that this jumpsuit is one of the most worn items in my closet ever. It's so versatile, I can wear it chasing Stevie during the day or out to dinner at night. I never really pair it with anything else because it's just the epitome of a simple no-brainer outfit. But I've had this sleeveless jacket (vest?) hanging around for about a year and I thought pulling the whole look together with clogs was a good way to make it work for the season.
Sleeveless jacket from Crossroads (Similar) / Jumpsuit by Reifhaus / Clogs by Lotta from Stockholm
LOOK #4
Plaid
I wouldn't be caught dead sporting a legit flannel in this weather, but a buffalo plaid in a cotton blend just screams fall. This pattern is probably a bit predictable and dated, where a small scale plaid would probably be more on trend. But I still like it and I'm hanging on a bit longer. It's the perfect layering piece for our chilly mornings and can easily be tied around my waist as the day warms up.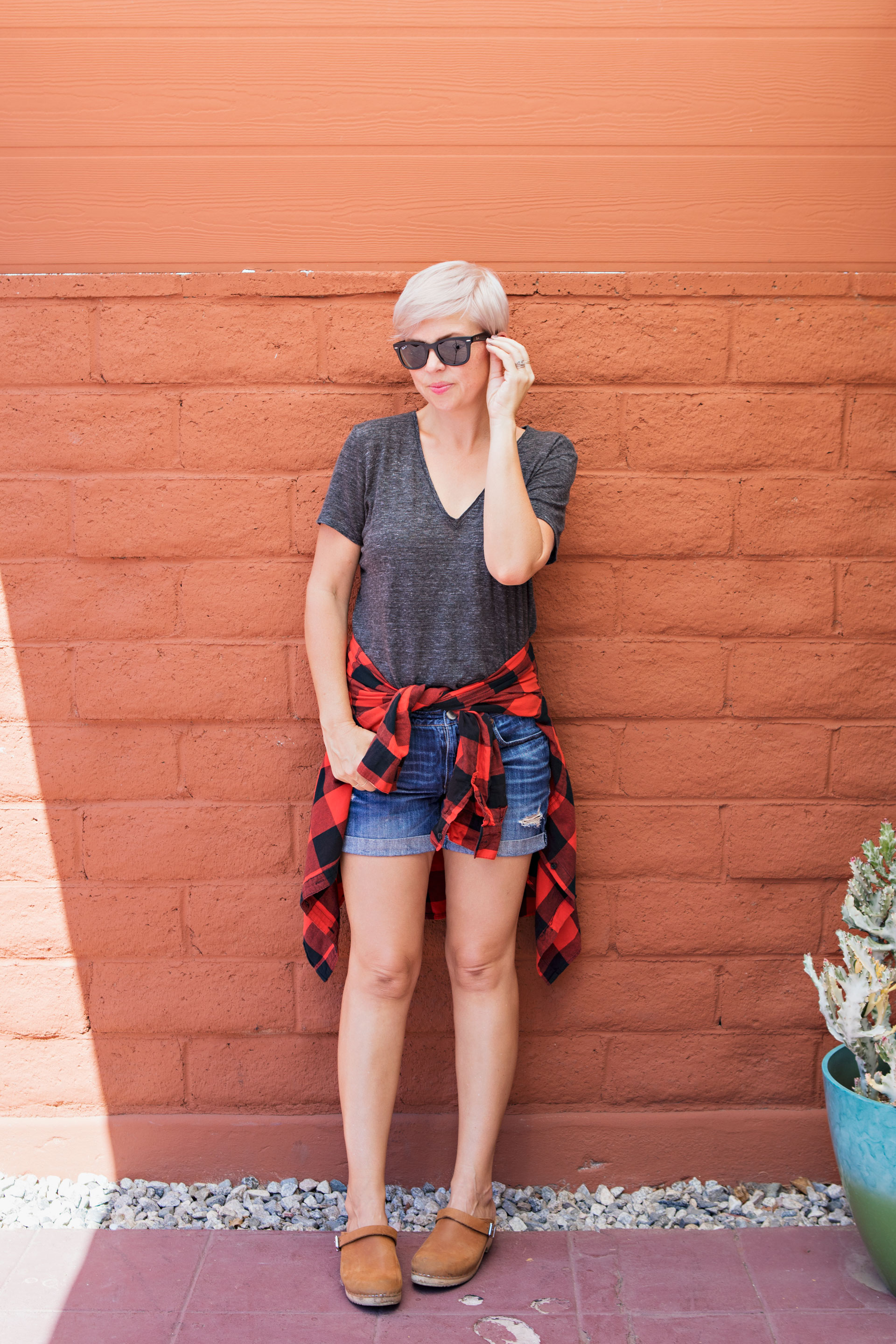 Plaid shirt old from Old Navy / Grey v-neck old by Everlane (Similar) / Jean shorts old from American Eagle (Similar) / Clogs by Lotta from Stockholm
LOOK #5
Color palette
Olive green, dark burgundy, and pumpkin spice are all colors that lend themselves to feeling right this time of year. If you stick with fall colors in comfortable, lightweight fabrics, you'll totally send out those fall vibes without totally overheating.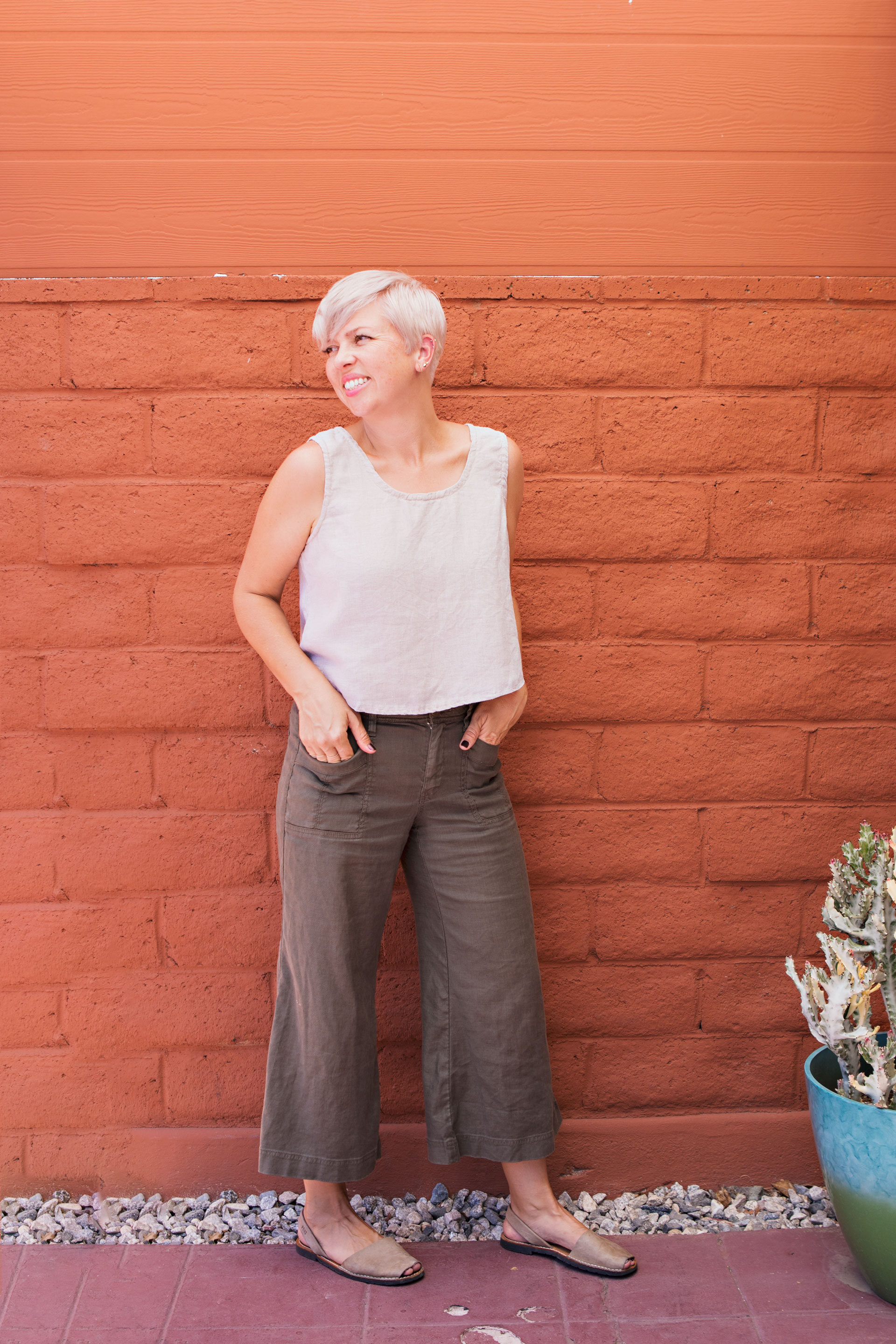 Crop tank by Me! (Similar) / Wide leg pants old from Anthropologie (Similar) / Sandals by Avarcas Pons
And please keep in mind, that as helpful as I try to be with these outfit ideas, I think the bottom line is that you should just be comfortable. Throw on a dark nail polish with some shorts and a tee and nobody will judge you, I promise.
If you live in warm weather this time of year, what's your favorite thing to wear?
loves,
jaana