Well ok, the birthday celebrations are winding down now, so they won't go on forever. But I've had a pretty darn amazing couple of weeks, dragging it out as long as possible.
Now listen… when I turned 30, I remember feeling so disappointed about my birthday and lack of a big, wild celebration. I think I told Paul something along the lines of "okay… thirty was one thing, but we better do it up BIG for forty!" There was no alternative in my mind. 40 would be YUUUGE.
And I kept that in the back of my head all these years. I didn't know exactly what this celebration would entail, but I threw around so many ideas.
Rent a hall and invite every person I ever knew for a themed costume party.
Go to Mexico with other friends who are turning 40 this year.
Rent a huge AirBnB house to host a pool party with inflatable slides and trampolines and pinatas and dunk tanks and food trucks and sno-cones (à la Ariana's kid-themed party on Vanderpump Rules).
Take a trip by myself somewhere I've never been.
Wine tasting weekend.
Charter a yacht for the day.
Rent a private room in a big restaurant for a fancy dinner.
Just to name a few ridiculous, unaffordable options. But as the years and months went on and my big birthday got closer and closer, I really couldn't imagine putting in the energy to plan something so elaborate. How it went from super important to meh so quickly is beyond me. But the sparkle and appeal just started to fade. Recently, when anyone asked me what I was doing for "the big 4-0", a nice sensible dinner sounded good enough for me.
Then it happened. A few of my girlfriends started making plans.
Girl Trips Galore!
Surprise Birthday Weekend in Silver Lake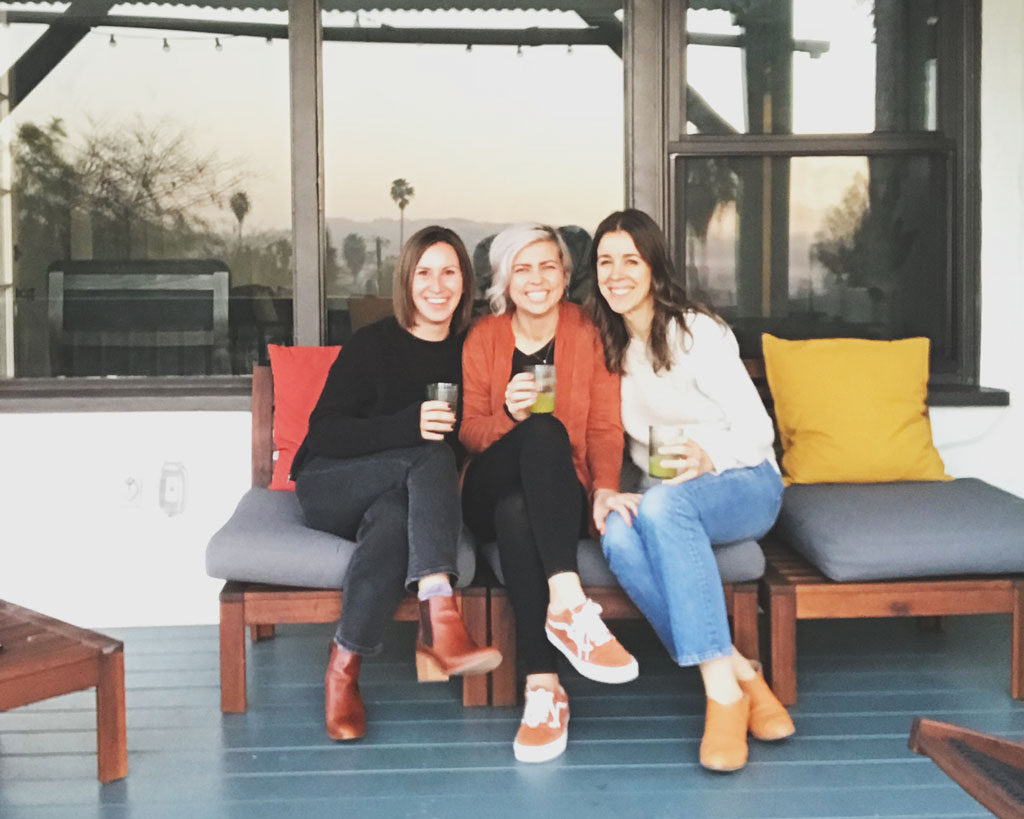 My blogger/Instagram besties turned real life friends. These ladies are my style gurus, they keep me grounded in the very weird world of social media, and we text pretty much every single day. I had met each of them at separate times before we could all finally meet up together. And when we played in Colorado last summer, we were an instant hit.
We have had so much fun getting to know each other better and discovered pretty much immediately that we make really good travel buddies. We talk about getting together again all the time.
So, I knew something was up when Paul wrote in my calendar "weekend with husband, don't plan anything". The note was surrounded with hearts, and I couldn't help but look at him sideways because this is just not something that he's ever done.
Of course, I wanted to give him the benefit of the doubt, but when I quizzed him about it a little bit, he started laughing so hard. SUSPECT. I texted the girls and told them he was up to something. I secretly hoped they were the ones coming to visit me, but they threw me off in all the possible ways. And by the time the weekend rolled around, I was left so puzzled as to what would happen.
So let me tell you, when I walked into my dining room to see these ladies standing there, it was one of the biggest rushes of my life! I screamed and ran to hug them and yelled "I KNEW IT!!!" And as I came down from the adrenaline, I nearly burst into tears. The whole thing was just so sweet and I couldn't believe that they would go to all the trouble of leaving their busy lives and wonderful families to come see little ol' me.
We stayed at the ca-yutest AirBnB in Silver Lake and the whole weekend felt like a dream in the best ways. We would have coffee on the patio each morning, we walked a ton and tried to scope out a couple different neighborhoods, hiked Runyon Canyon, hit the flea market, had a great brunch, popped into the Grove, had a little dance party at the house, and even did a crafting project when we couldn't get the TV to work.
As a matter of fact, they both wrote great blog posts about the trip on their own blogs: Seasons and Salt / Style This Life.
So many laughs and sharing about life. Which really makes for the best kind of weekend. The only good thing about it coming to an end was the fact that we can now start planning our next trip together.
CAN'T WAIT.
Birthday Road Trip to Vegas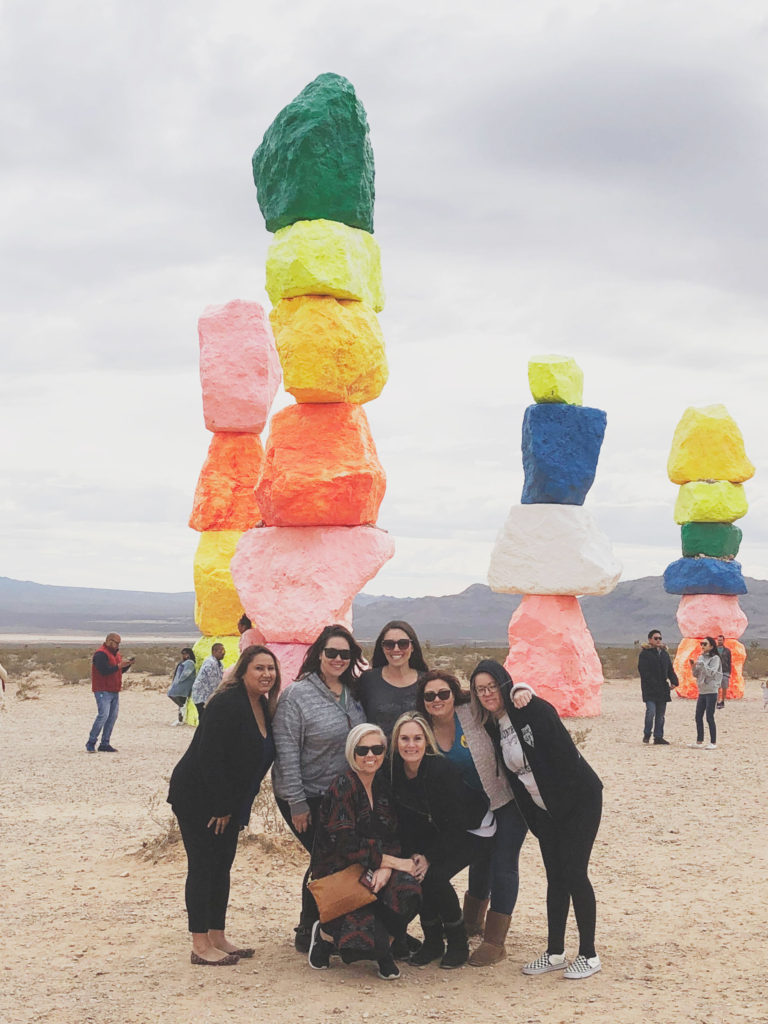 My Sewing Circle babes. Of all the things I thought I'd be involved with as an adult… sewing circle was not one of them! Haha. And shockingly, it has become such a great outlet. Not only creatively, but emotionally. A few of the girls in the group are my dearest friends. The ones who have been there through thick and thin the past 20 years (give or take). We have taken many a trip together and know each other inside and out. The other girls are newer friends, but sewing circle has become such a great support group, I knew taking a trip with them would be a win.
When the ladies wanted to go see Lady Gaga in Vegas, I'll admit I had my doubts. I've never been a huge fan until more recently, and the tickets just seemed so expensive. I didn't know if I was up for the type of debauchery a weekend in Vegas to see Gaga would entail. But we bought the tickets anyway and decided to make it happen for my birthday weekend.
And I have to say it was worth every effort to get there. We rented a big suburban so we could all go together. And driving over on a Thursday was thankfully so easy and traffic-free. We stopped in Baker for lunch and popped over to the Seven Magic Mountains and a couple hours later we were checking into the Wyndham Grand Desert, which was the perfect spot for a group of 7 girls. Just off the strip — but still really close — the two bedroom suites are roomy and affordable. We ate pizza while we got dolled up and headed out for the evening.
We had general admission tickets to the show and…I was scared. I didn't really want to stand all night being shoved around. You know me, always the eternal optimist. So I was pleasantly surprised when the crowd was (mostly) cool. Plus we were so incredibly close to the stage, it was just UNREAL. I have never had a concert experience quite like this one. It reminded me a little bit of a KISS show because of the pyrotechnics and over-the-top show quality. But her voice!!!! She is just so incredibly talented and I felt so lucky to see it all first hand.
By the end of the show, we were ready to continue the party, but with our old lady feet aching, we headed back to the room to change and never quite made it back out.
On Friday, we took our time getting out the door, but made plans to ride the Observation Wheel at the Linq Hotel and grab some lunch. The wheel was really cool. We bought the $20 Groupon deal and had excellent bloody marys and popcorn on the way up, so that was kind of perfect. A few of the girls also did a zip line over the promenade and then we grabbed a snack at In-N-Out before getting ready to go out again.
At this point, I figured we'd walk around the strip awhile, maybe gamble a little, grab a meal. So when we hopped in the cab and my friend announced we were going to my favorite Vegas restaurant Herbs & Rye, (seriously, the best steak ever and a sidecar at happy hour prices??) I yelled WHAAAT!! YAY!!!! And the surprises didn't end there.
After a quick run-in with O.J. Simpson (not kidding) we headed out to the Hard Rock Hotel and were standing around for a minute before my friends announced that as (another) birthday treat, they had bought tickets for all of us to see Magic Mike. MAGIC FREAKIN' MIKE!!! This is something we've talked about and joked about since the show opened, but with everyone already spending a small fortune on Gaga tickets, I certainly wasn't going to push the idea.
But there we were. They read my mind and made all my stripper show dreams come true. I laughed so hard and had the best time. Even when I had a peak Jaana moment and hit one of the strippers in the face with my tiara.
YUP.
Birthday Spa Day in Arizona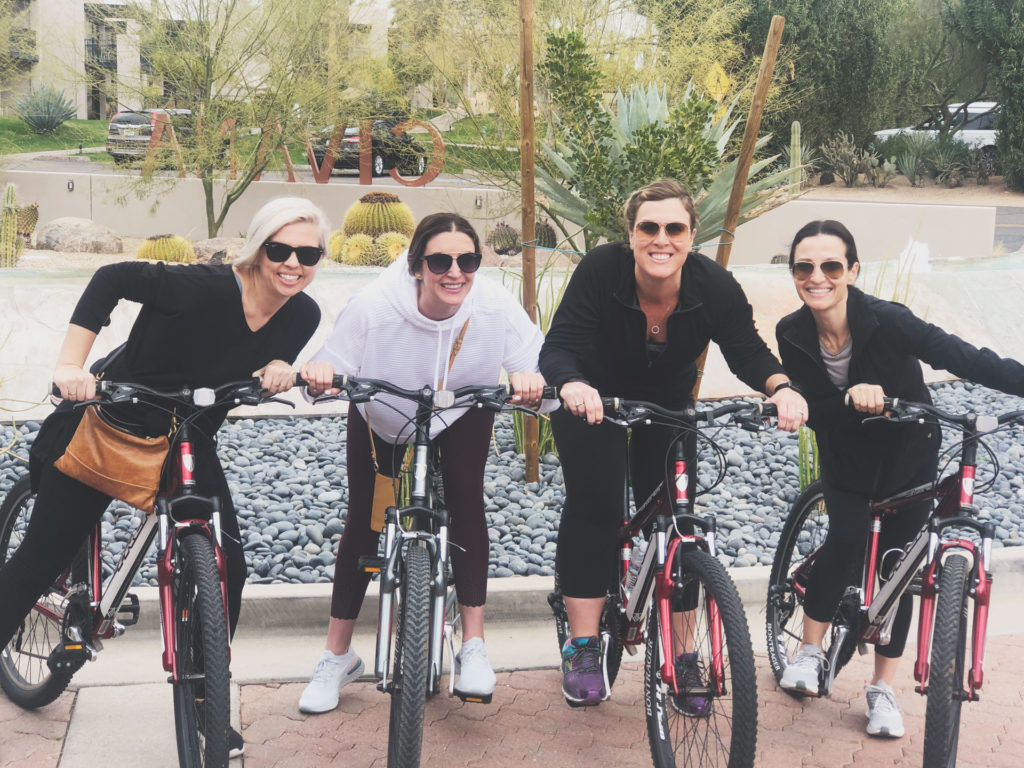 My Golden Girls. My Bad Moms Crew. I've known a couple of them since jr. high/high school and after reuniting a few years ago, we have had so many adventures together! The 39 Mile Avon Walk for Breast Cancer, being on the Price is Right, attending the Bad Moms movie premier, the Funk Zone. Not to mention the many dinners where we've been asked to "keep it down." These girls are a really good time. Every. Single. Time. I truly look forward to doing anything with them.
And when they told me they wanted to do a spa weekend in a remote location, of course I was in. When they told me we'd be doing aerial yoga, a sunrise shaman hike, and maybe a workshop on finding our spirit animals, I started to have my doubts about what we were getting into. But we booked the spa and classes anyway, and decided to make that happen too. The only catch was it would be the same weekend I was doing Vegas.
At the time we planned it, I thought it would work out perfectly. I would go to Vegas for two days and then fly from there to Arizona for two days. I wouldn't have to try and get away for two separate weekends or have to make extra accommodations for Stevie. It would all happen at once. Easy. No big deal.
But as the trip approached, I could feel my anxiety rising. How would the scheduling work? How would I pack for two trips that were so different? In a carry-on, no less! How could I possibly wake up at the butt crack of dawn on Saturday to catch my flight after a Friday night partying in Vegas?? All valid questions.
But I did it. And I did good. The trick was staying mostly sober. No small feat in that neck of the woods. And yes, to answer your question, I watched strippers while drinking only ginger ale. Which was actually very similar to my bachelorette party. Sooooo worth it as I rolled out of bed the next day at 4:45am and headed to the airport.
The flight from Vegas to Phoenix was chill and when I finally made it to the CIVANA resort in Carefree, Arizona I was so happy to be there. Maybe from this day forward, we should always book an extra day of vacation at a spa to come down from the Vegas scene?
The resort was beautiful. All our desert fantasies brought to life. After 2 hours of sleep, I met the girls for coffee and a Zumba class. Then we rode bikes around town for awhile and spent the rest of the afternoon at their glorious spa. I took a little nap before getting the best hot stone massage of my life. And I walked out feeling so incredibly good. We had a quick dinner and then spent the rest of our time together dancing the night away at a local dive bar, fangirling over the local band, and people watching to the max. Small towns are really fun for that sort of thing.
It felt like we were in one of those romantic comedies where the city girl goes to the country and everything feels so foreign, but then she falls in love with a cute cowboy, even though he was like SO annoying at first. I mean, it was just like that without the falling in love part.
Conclusion
That pretty much sums up the epic 40th birthday celebration. Could it have been any more amazing?? I think not. Best birthday ever. How is this even my life? And I happen to be married to such an incredible partner who didn't even think twice about holding down the fort while I was off gallivanting!
You know maintaining friendships as an adult can be really hard. Making new friends can be even harder. Growing up and becoming a parent has had so many incredibly lonely and isolating moments. I never knew where to turn, who to burden, and I may not have given my friendships the attention they deserve.
But sometimes it just works. There have been so many unexpected rewards from putting in the effort to spend time with people that enrich my life. Maybe it's just the timing. Maybe we have come into each other's lives for the first, second, or third time for a reason. Over the past year, I have really opened myself up to more female friendships. And yes, some of the people who have come into my life more recently have made a huge impact. (Disney crew, I'm looking at you!)
So as I sit here sipping my coffee, popping off my fake nails — and feeling like I got hit by a truck a little bit — I am starting the new week and a new chapter feeling so loved. And so in love with all the people who made this birthday hullabaloo possible.
I may have been planning the festivities in my head for years, but no amount of plans could have come close to the magic I felt spending time with all these women who have become so important to me over the years.
Thank you. To all of you. Thank you so much. For your friendship and support. And for sharing your experiences with me. Thank you for just being you. Thank you for making me laugh. And bringing a brightness to my world. Please know that you are loved and appreciated always. And I never want to do this without you.
Annnnnd now I'm crying. Bye.
Have you been on a girls trip lately or had an epic celebration? Are you nervous to get older? Tell me all about it!
loves,
jaana