It's that time again!  Another wonderful SUMMER, I mean Fall wardrobe challenge. *eye roll*  I was very very very very hesitant to join in this time around, because clearly I'm annoyed with our weather and didn't really feel like adding another challenge to my life.  Maybe I should call it an experiment instead of a challenge to make it sound a little less intimidating and… well, challenging.
I've also been feeling uninspired with my clothes (as usual!) and spent a good amount of time just staring at my closet before throwing my hands up.  Most of the challenges experiments I've done in the past, I've had a new item or two to throw in the mix, which felt exciting.  I thought about sewing some stuff before starting, but I'm also having a hard time committing to an idea there.  Clearly my creativity is at one of it's low points.
But! All that being said, I know that usually when I want to do it the least, it means I need to do it the most.  If nothing else, to remind myself how much my closet can do for me without any "new + exciting" pieces.
So I went back and stared at my closet some more, thinking how whenever I see my favorite influencers jump on board, I also get excited to join them — for the pure and simple fact that the online community of 10×10-ers is really cool and inspirational.
These are a few peeps that I'm excited to follow along with:
The co-hosts: Un-fancy + StyleBee
Blogs: Style This Life / Seasons And Salt / Truncation Blog / The Thoughtful Closet / The Garment Life / Capsule Closet Blog / Intentional Consumerism / Jesse Coulter
Instagrams: @theeffortlesscloset / @brandikoz / @ahappiercloset / @_wonderblood_ / @mepluslady / @streamlinedstyle / @kristian_olson / @tarynjbaker / @freelyelegant / @jess_step_ / @pulling_threads
And of course you can search the Instagram hashtag #fall10x10 to find all the people jumping on board.
Sooooo… I convinced myself in the end to just go for it and try not to let the weather make me too grumpy.  I mean it is what it is.  And after one last stare session into the closet, here are the 10 pieces I finally chose to wear for the next 10 days: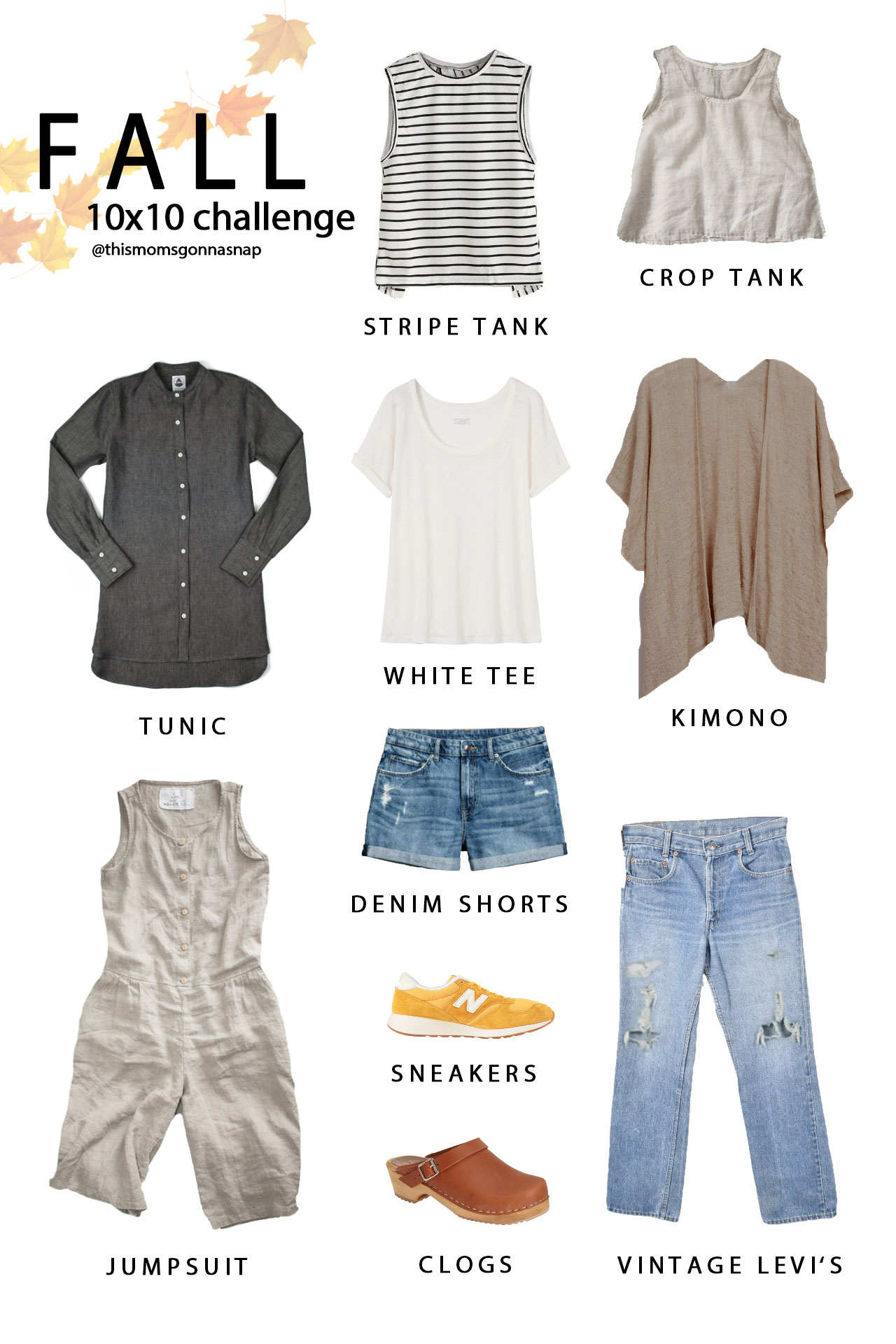 I'm definitely allowing myself some flexibility with outerwear and things like that because if it actually gets chilly (hahahahaha) I'm not going to deny putting a jacket on my body just because I'm in the middle of the challenge experiment.
I also already have one cheat day planned because I'm going to a freakin' Price is Right taping and I have to wear the obligatory "Come On Down!" tee.  YUP!
But the overall goal for me in this whole thing is to not overthink it.  Simple outfits that I wear any normal day — putting those old, familiar clothes to work.
So who else is in? 
loves,
jaana