I know it's a bold statement. A weighted blanket changed my life. Pfft. I guess what I really mean is it improved my sleep exponentially, which is basically life-changing for an exhausted mother.
If you've been around the blog for any amount of time, you know we have a child who hates sleep. Just in general. Not a sleep guy. He can't fall asleep on his own, he certainly can't stay asleep through the night, and he loves to be awake before the sun is even making it's way through our blinds. For about 8 years, we have been pretty damn sleep deprived.
Then of course there are the nights where I just have plain old anxiety and can't sleep from my own doing. Laying awake thinking about all the people I've possibly ever offended in my life. Or worrying about missing my alarm for work. It's usually nothing worthwhile that I'm fretting over.
But now, with my weighted blanket, I notice a difference in the in-between time. That time between when Stevie finally falls asleep and when he wakes up because his foot is uncovered, or the time between that and when he wakes up because he spilled his water, or the time between that and when he starts jumping on his trampoline in the dark — all that in-between time — I am sleeping.
Like actual sleep. Deep slumber, barely moving, and dreaming vividly. I haven't had dreams in many, many years. At least not that I can remember. And now, at least for a few minutes each night, my mind is off on wild adventures and really REALLY weird plot twists.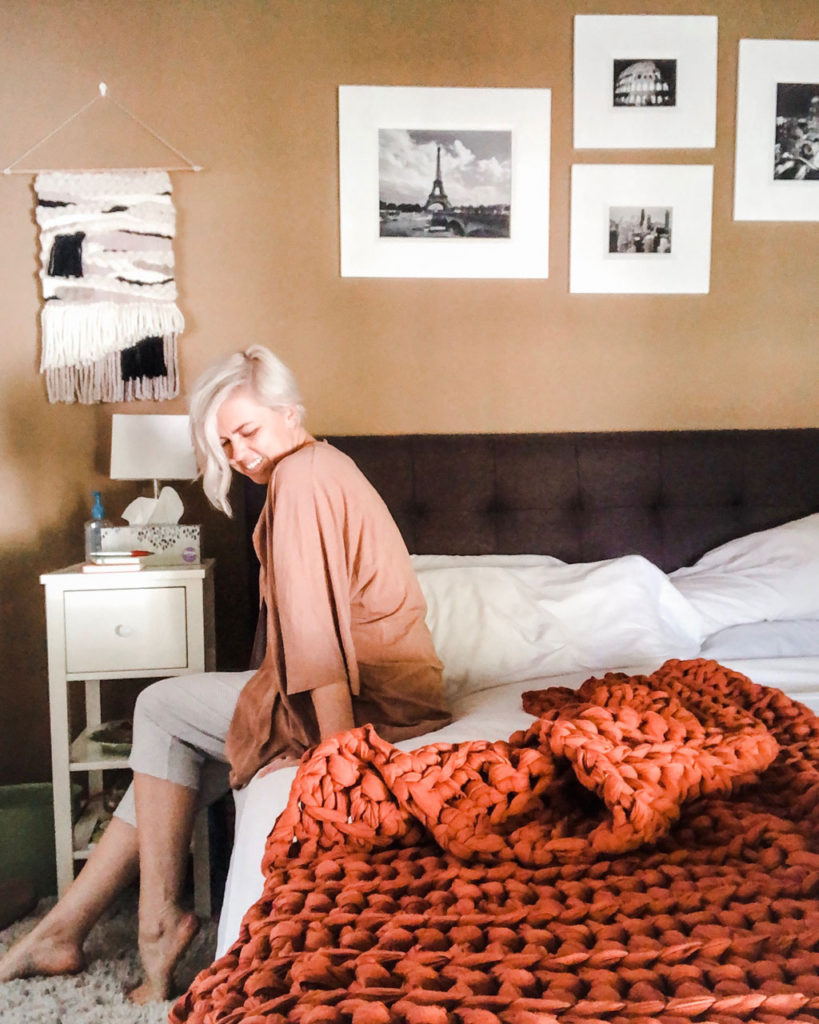 I chose my weighted blanket from Sheltered Co. because I know the maker in real life. So yeah. I'm a little bit biased. But I can also tell you first hand that she is awesome and her blankets are the best I've ever seen. I'm so glad we chose this brand for so many reasons.
They are handmade and shipped directly from her Los Angeles warehouse.
They are made from deadstock, upcycled + recycled fabrics. Quantities are limited and each blanket is unique. (Make sure you're following on Instagram to see the latest launches.)
The weight in the blankets comes only from the weave of the fabric. There is no plastic or fillers to make the blankets heavier.
Even though my blanket weighs upwards of 20 lbs, it's not hot! In the cooler months, I throw it on top of my comforter to keep warm. In the summer, I use it alone, and the large holes in the weave still allow for air circulation.
Most of the blankets are machine washable (in a front loading machine). They take forever to dry, and I don't wash mine often, but it's nice to have the option.
The price tag is hefty, but when you really break it down and compare the craftsmanship and quality of these blankets to anything else out there, I'd say it's worth setting aside some dough to get one.
So when I say that my weighted blanket has changed my life, I mean it. Or I mean it will eventually change my life… if I ever get a chance to sleep through the night again.
Do you have a weighted blanket? Any questions about them?
loves,
jaana