Cold Weather Essentials in a Carry-On
On our latest trip to the Midwest, I felt like I really hit my stride with cold weather packing. Now, this is no polar vortex survival kit, but it was perfect for temps between the 20's-40's. And color me surprised when it hit 42 degrees and Miss California over here was peeling off the layers! Who even am I?
As I packed for our 7 day trip, I kept thinking how impossible it is to be a minimalist in winter. All those layers and accessories take up so much space! It took me several tries, and I definitely didn't bring as much as I originally planned, but we somehow managed to make it all work.
On the flip side, a bonus to the cold was that I could wear the same few things over and over — as long as I didn't spill food or fall in a mud puddle or something. I certainly didn't rule out those possibilities, but the travel gods were with me!
These few items got me through all 7 days of travel, lounging, and sightseeing with one quick load of laundry on our last day in Wisconsin. If I had more under layers, I wouldn't have had to do laundry at all. My top layers stayed fresh with long sleeve tees and thermals underneath.
I wore everything I brought in pretty much every imaginable combination, but it still meant there was some outfit repeating going on. But by the time I covered myself in a giant coat, hat, and gloves, no one was the wiser.
And looking back at my cold weather packing list from 2015, not much has changed!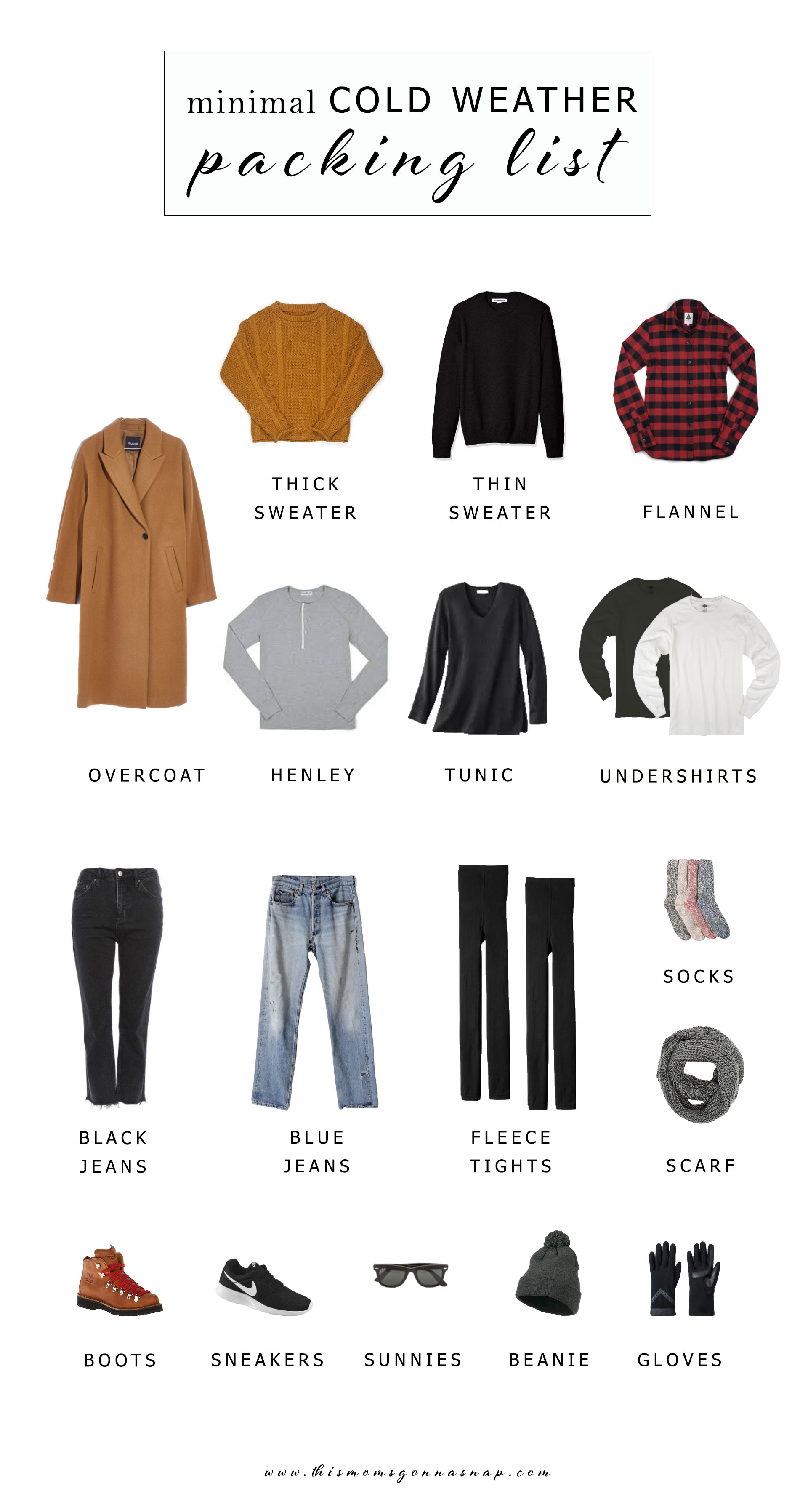 THICK SWEATER (similar) / THIN SWEATER / FLANNEL
OVERCOAT (similar/referral link) / TUNIC / UNDERSHIRTS (white + black) / HENLEY (similar/referral link)
BLACK JEANS (similar) / BLUE JEANS (similar) / FLEECE TIGHTS / SOCKS / HANDMADE SCARF (similar)
BOOTS / SNEAKERS / SUNNIES / BEANIE (similar) / GLOVES

Hope this list is helpful as you're packing for your next winter getaway! Hit me with questions in the comments.
loves,
jaana