I've confessed before that I'm not really a blush person. I find it difficult to wear with my rosacea.  I realized I am not a foundation person either.  If I don't like blush or foundation, maybe I'm just not really a make-up person.
Yet I still continue to try.
Foundation tends to feel a bit… fussy to me. Takes too long to apply, is hard to blend, doesn't look natural. You get the idea. That being said, I can clearly see areas of my face that need the extra coverage that BB Cream can't quite fix.
When I saw the Younique Touch Foundation in action, I was cautiously optimistic. Looks great, but what kind of fancy lighting or filters are the sellers using to make it look better than it is? And how much makeup are these girls actually wearing? I don't have time for something that's going to take 30 minutes to apply.
Many of the colors they offer have been sold out, but I tried Velour, based on my girl Erin's recommendation. (I highly recommend letting a rep help you decide, but if you end up with the wrong color, they'll exchange it for you.)
I used a flat foundation brush to apply, and I couldn't believe how smooth it went on. So fast and easy!! I got great coverage on my whole face in about 30 seconds. I blended my jaw and hairline with a blender sponge and that was that. Wow!
(These photos are unfiltered so hopefully you can see the difference. In person, it's pretty significant.)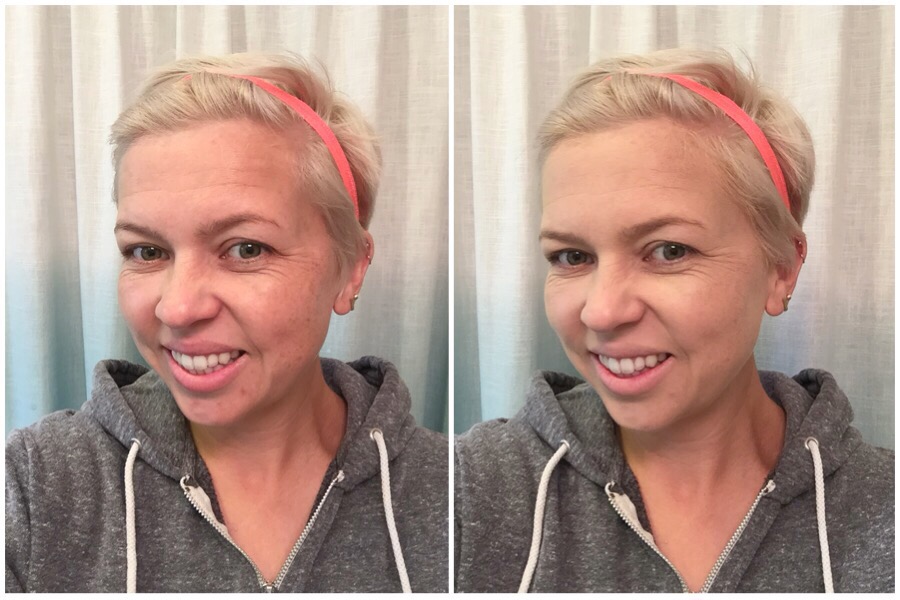 The look of those red tones in my face – I'm almost a different color!  And those darn age spots and even the pimple on my chin were reduced so much! And it really didn't feel caked on. I was very pleasantly surprised. It smoothed out my skin so much, it was easy to see where I could still apply a light blush and bronzer without overdoing it.
Here are the tools I used to get the final look.  Took about 10 minutes: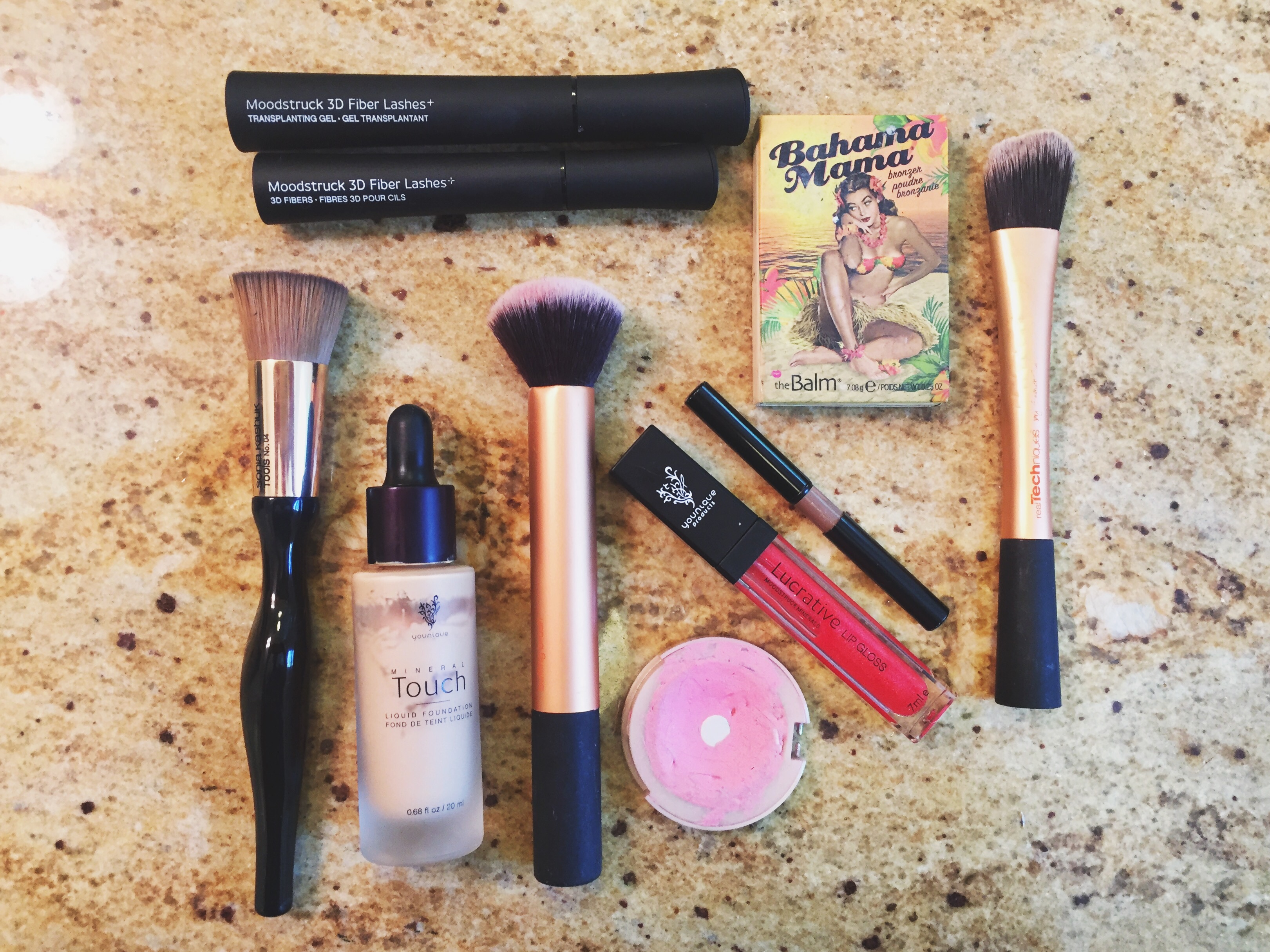 mascara / foundation brush / foundation (in Velour) / blush brush / blush (in Fresh Pink) / lip gloss (in Lovesick) / eyebrow pencil (in Brunette) / bronzer brush / bronzer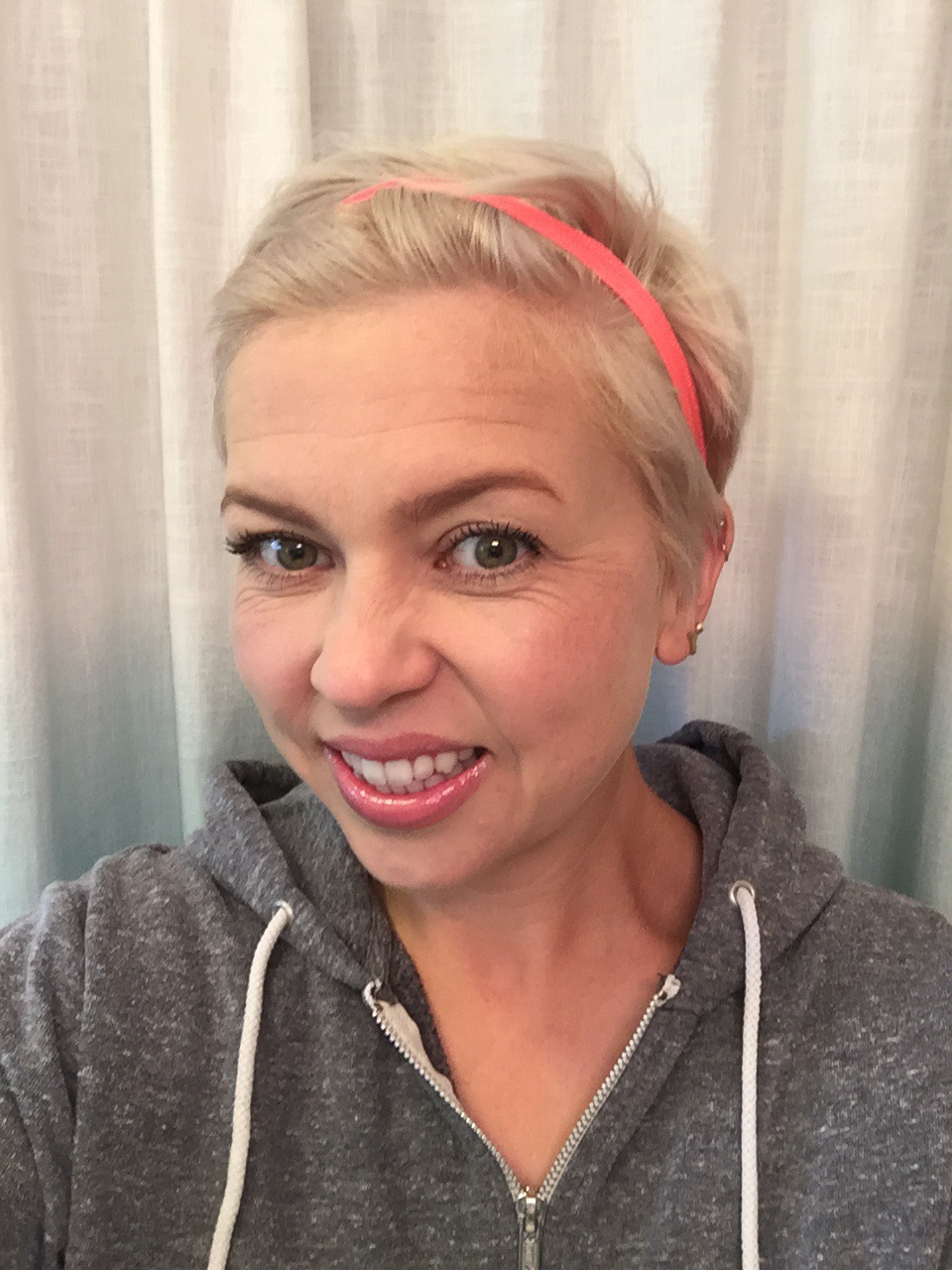 As with anything it takes a little practice to get it perfect. The second time I used it, I put too much makeup on the brush and it ended up in my hair. But now I know, less is more.  And my only complaint is that it sticks to dry patches a little bit.
I'm still not sure about wearing it for every day. It's honestly even easier to put on than BB Cream, but it's also obvious that I'm wearing makeup. And I don't know how necessary that is when running a 5 year old around to all his scheduled activities. Maybe it just takes some getting used to.
But either way, I love this product and highly recommend it!
Not a sponsored post, yo.