When I had a reader email me asking what to bring on vacation to Southern California, it was one of those forehead smacker moments like HELLO!  Of course I can help with that!  Why didn't I think of this before? So if I was visiting me,  this is what I'd bring – and it would work whether vacation lasted a week or a month.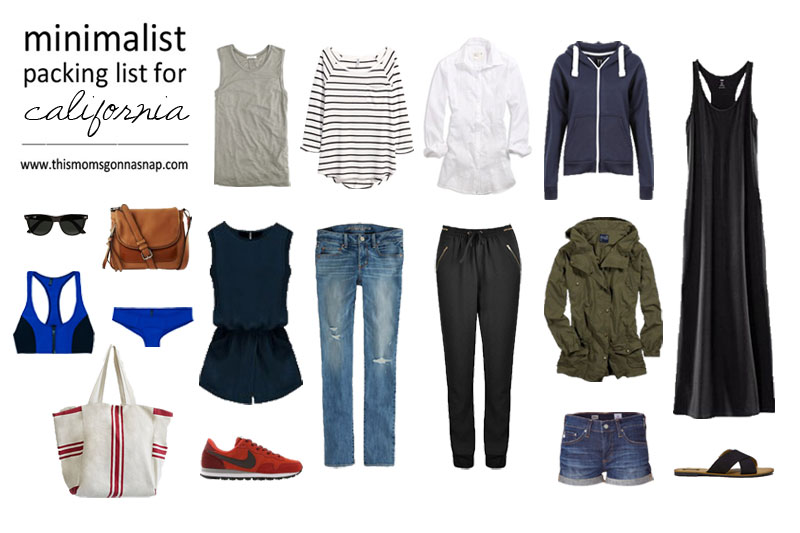 TOPS
tank top, comfy tee, button down shirt, hoodie, light jacket

BOTTOMS
shorts, jeans, joggers (if joggers aren't your thing, you can always swap for wide-leg pants)
JUMPERS
romper, maxi dress

SHOES
sandals, sneakers
BAGS
small crossbody, large tote bag
ACCESSORIES
bathing suit, sunglasses
NOT PICTURED, but don't forget: no-show socks, underwear, pajamas, workout clothes (if you like that sort of thing), jewelry, camera, phone charger, and toiletries.
The seasons don't matter so much here.  It can go from winter to summer weather in a matter of hours, any time of year.  Likely, it will be nice – but you never know!  Of course, the cold is relative and that's pretty obvious when it's 60 degrees and misty cool in the mornings.  You'll see the folks from snowy climates walking around in flip flops and shorts while the native Californians are bundled in H2T winter gear. So packing layering options is really the way to go, just in case you need to acclimate to our perfect weather.
I'll give you a quick breakdown of why I chose these items.  Basically, they all work together.  They can all be dressed up or down, depending on what your plans entail.  Any of the tops will work with any of the bottoms.  The joggers are comfy  for travel days or use them with the white button-down and some awesome jewelry for a night out.  Take that same white shirt and use it as a layering piece to change up a day time look.  Both the romper and the maxi can be used for dinner plans, a casual shopping day, or as a bathing suit cover-up.  The large tote is great for travel days and beach days.  The small crossbody is good for getting around town while you're sightseeing.  The hoodie and jacket are just in case, but they'll look cute with everything else. I mean really, the possibilities are endless.  You get the idea.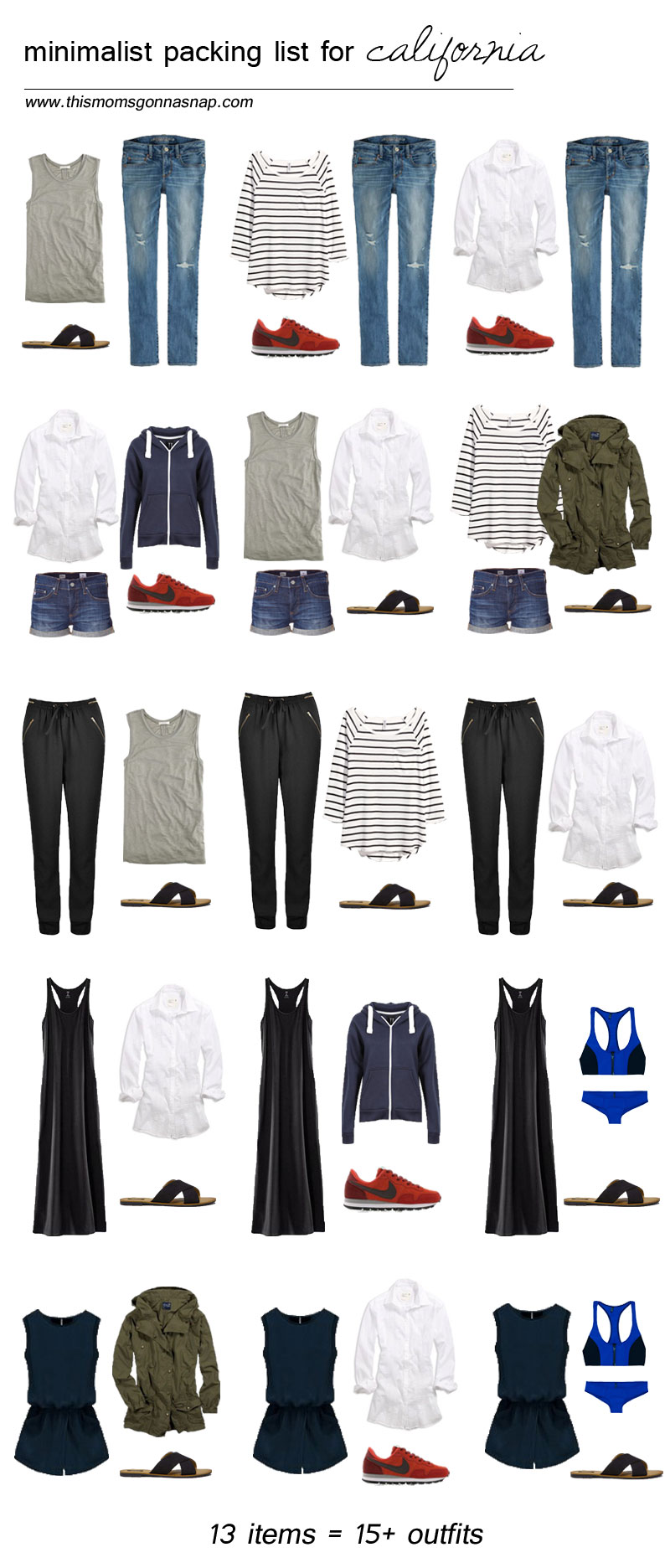 Hope that gives you some ideas.  And if you're coming to California, have the best trip ever!