Age defying treatment.
You had me at hello.
I don't know you guys. I'm such a sucker for anything anti-aging. I feel like I've tried it all. But I haven't stuck with one specific product for any extended amount of time. And though my products always change, I still continue my nighttime routine:
Wash.
Tone.
Apply a magical gel of some sort.
Use a crap ton of moisturizer to hopefully soak into, and therefore cure, my wrinkles.
And yet, it seems that sun exposure and age have waaaay more power over my skin than magical gels. Darn it.
When I asked around in a mommy group what the best products were, I was offered to try a moisturizer that I'd never heard of – NeriumAD. The AD stands for Age Defying, so yes. Gladly! She said I should take a before photo, use it for 30 days, and then snap an after photo too. So I did.
I used it every night for 30 days and I LOVED it. It made my skin tight as soon as I applied it. I never had a product feel like that on my face before! It seemed to shrink my pores and smooth my fine lines immediately. It was really cool. Unfortunately, after a full night of smashing my face in a pillow, the effects wore off and I was back to looking like… well, like I had a full night of smashing my face in a pillow.
But after 30 days, I did notice some very small changes. Of course, in the photos, you can't see what I see in real life, so here's the part where readers be like "thanks for the before and after where you look exactly the same."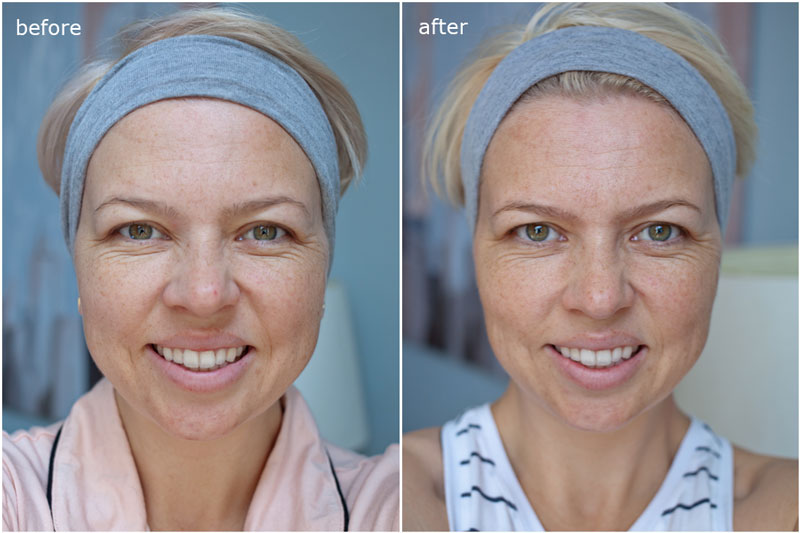 Also this is my face with no make-up. Probably should've warned you before hand.
ANYhoo, after a month of use, I noticed a slight improvement in my age spots as well as the fine lines around the wrinkles in my eyes. Yup, my wrinkles have wrinkles, people. I also felt like my pores looked smaller over all.
So all in all, do I recommend this product? Yes. I think of all the age defying products I've tried, it is truly unique. That tightening thing it does upon application is awesome. And even though the long term changes were so slight, I actually saw changes, which is a first with any anti-aging sorcery I've used. I'm guessing it would only get better with extended use.
Here's where to get it: sarahgonzales.nerium.com and my girl Sarah can get you all set up. Please email or comment with any questions.
What are your favorite anti-aging products?