Oh hey, hello, it's been awhile!  What's up you guys?  As you probably guessed by my lack of posting, we have been busy, busy, and one more busy.  I just launched my updated photography site and I'm working on making changes to this site some day soon as well. Plus… life.  This crazy life!  It seems as soon as I get the feeling things are about to slow down — well, they don't.  So.
The reason I wanted to quickly check in was to share my successful packing list from our Spring Break in the Pacific Northwest.  The entire vacation itself may not have been a raving success, but gosh darnit, my packing list was pretty awesome.  Before the trip, I had searched online, high and low, for what to pack for the rain (by god, there was going to be a lot of rain) and surprisingly I couldn't find a whole lot to help me.  So I was totally winging it.  As I started throwing clothes in my suitcase, I really felt like I was over-packing.  But I ended up needing every single thing I brought at one time or another.  So here you go!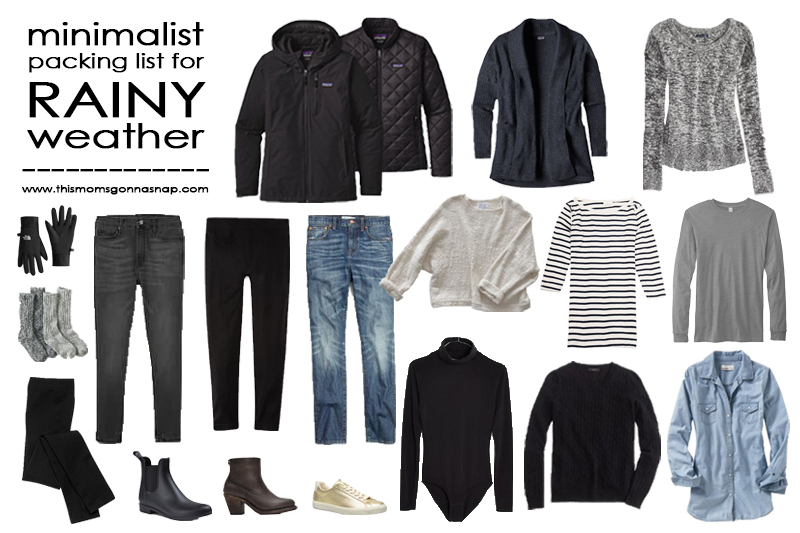 jacket: old from patagonia (similar) // wool cardigan: patagonia // marled sweater: old from F21 (similar) // gloves: northface // skinny black jeans: old from gap (similar) // thick leggings: old from gap (similar) // straight blue jeans: madewell // thick sweater: jamie + the jones // striped sweater: zady // gray base layer: old from target (similar) // wool socks: old from target (similar) // fleece tights: old from macy's (similar) // chelsea rain boots: target // heeled booties: frye // gold sneakers: veja // turtleneck bodysuit: old from american apparel (similar) // black crew sweater: old from american apparel (similar) // chambray shirt: old from old navy (similar)
Everything was comfortable and went together, so making outfits was really easy.  The gray tee and fleece tights were spectacular base layers, as was the bodysuit, since they added some much needed warmth.  The one thing I forgot to bring (and really wish I hadn't) was gloves.  Walking around in the PNW rain is very different from SoCal rain, and gloves would have been a game changer.  Oh, and I can't speak highly enough of my Patagonia jacket.  I have never owned a real rain jacket, and this thing delivered in so many ways.  What I'm saying is keep a look out if it ever goes on sale again.  There's a reason people in the PNW wear these things.  Otherwise, I had plenty of options for all of our activities — which included eating, walking, hiking in mud, and eating some more.  Pics of that stuff coming soon!
Anything I missed?  Where's my locals at?  And for the record, I'm hoping for a little more time in the near future to get you guys caught up with life.  I know, you can't wait.