Looking back, I realized I never updated you guys on my Fall Capsule. Turns out, I don't think that many people cared, so that's a… relief? I guess? Since California had so little change in the weather anyway, I didn't really have to worry about making many adjustments. I wore my Summer Capsule with a little plaid mixed in all the way into late October .
But – and I hope I don't jinx it by saying this – we are smack dab in the middle of a real-life winter season over here. I mean, not real-life for anywhere but Southern California, but let me tell you, it is down-right chilly these days!! And I am loving it. I actually went Christmas shopping in a sweater instead of a tank top, and that was everything.
So it got me thinking about the wardrobe, of course. We all know 80% of my brain power is driven by clothes. And it seems that my new closet kind of made some of the decisions for me. The house that we moved into was built in 1929, and the closets are tiny. Minuscule. Ridiculously small. And for some reason, I decided that all my clothes were going to fit into it. I wanted an honest-to-goodness minimal wardrobe. And I felt like storing stuff for future capsules was giving me a lot of excuses to hang on to things that I no longer really cared about.
I had to dig deep, let me tell ya. As I unpacked my clothes, I really looked at things with a critical eye. I tried everything on. I thought losing weight would make the decisions so easy, but it turns out, most of my clothes just looked better. So that didn't help. I eventually worked my way through the mountain and made it all fit somehow. It's not the first time I've downsized my wardrobe, that's for sure. But I'm hoping it's the last major haul I'll have to do, as I plan to very slowly revamp my closet and not fill back up with a bunch of junk. Yes, this may have been my plan the other 4,298 times I've done this, but I feel truly driven this time around.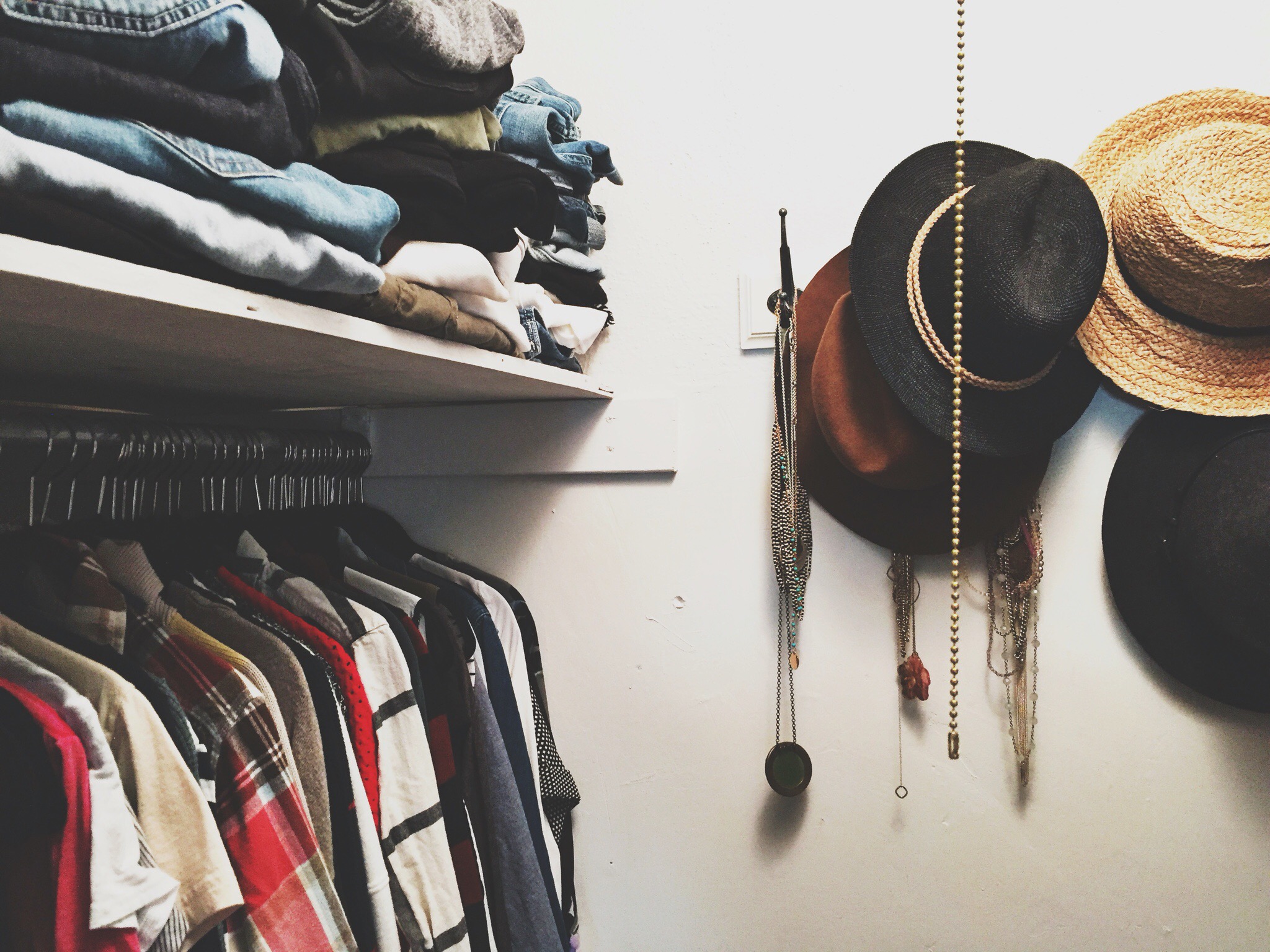 I didn't count the exact amount of pieces I ended up with. I know I still have more than I need. So there is work to be done. But I feel like I'm off to a good start. I don't have separate capsules for work/events/vacations. I got rid of my jewelry armoire. Everything from pajamas to work out gear to the momdrobe is all here in my bitty closet.
*Side note: Purses and scarves. Still working that section out. Trust me, I have way too many scarves for someone living in this climate.
The biggest personal changes have all come since the moment I made the decision to stop buying fast-fashion brands. Having a capsule wardrobe brought me part of the way. And this conscious shopping really hit it home. I can't even tell you how much the #fewerbetter, slow fashion, ethical, sustainable, fair trade movement has helped me. When I'm not sucked into the mall sales and the BOGO deals and the idea of more, more, more. I have so much more self-control. I don't feel that panic to stay ahead of the curve or have the latest trends. I am genuinely excited about my clothes again, instead of forgetting about them once they're hanging up. I am much more selective. I want better quality for myself and to know that the things I'm buying aren't hurting the environment or the people in it.
It feels good. Truly.
I'm only 6 months into my journey, but I can't UN-learn what I know. So this has to be for the long haul.
Sometimes, yes, absolutely, the sticker shock of sustainable shopping gets to me. But it's a good thing for a perpetual cheapskate, deal-seeker like me. Because it accomplishes the overall goal of slowing down. I sit on my thoughts for awhile before clicking the "buy" button. I research the items I'm purchasing. I break it down to a cost-per-wear scenario. No more impulsive whirlwind sprees.
So far, it's the best decision I've ever made about clothing. Hands down.
Now the question remains of what to do with my old clothes?? I will try selling them first, but now I even feel bad donating them – worried they'll end up in a landfill somewhere. Any thoughts from the crowd?