Well, well, well. Here we are again! I will be celebrating my 6th Mother's Day, how about you? The husband has learned — just in these six short years of blissful parenthood — that the greatest gift he can give me for Mother's Day is time away from my child. But if that fails, because life is busy and stuff, any of these pretty, ethical gifts will do too!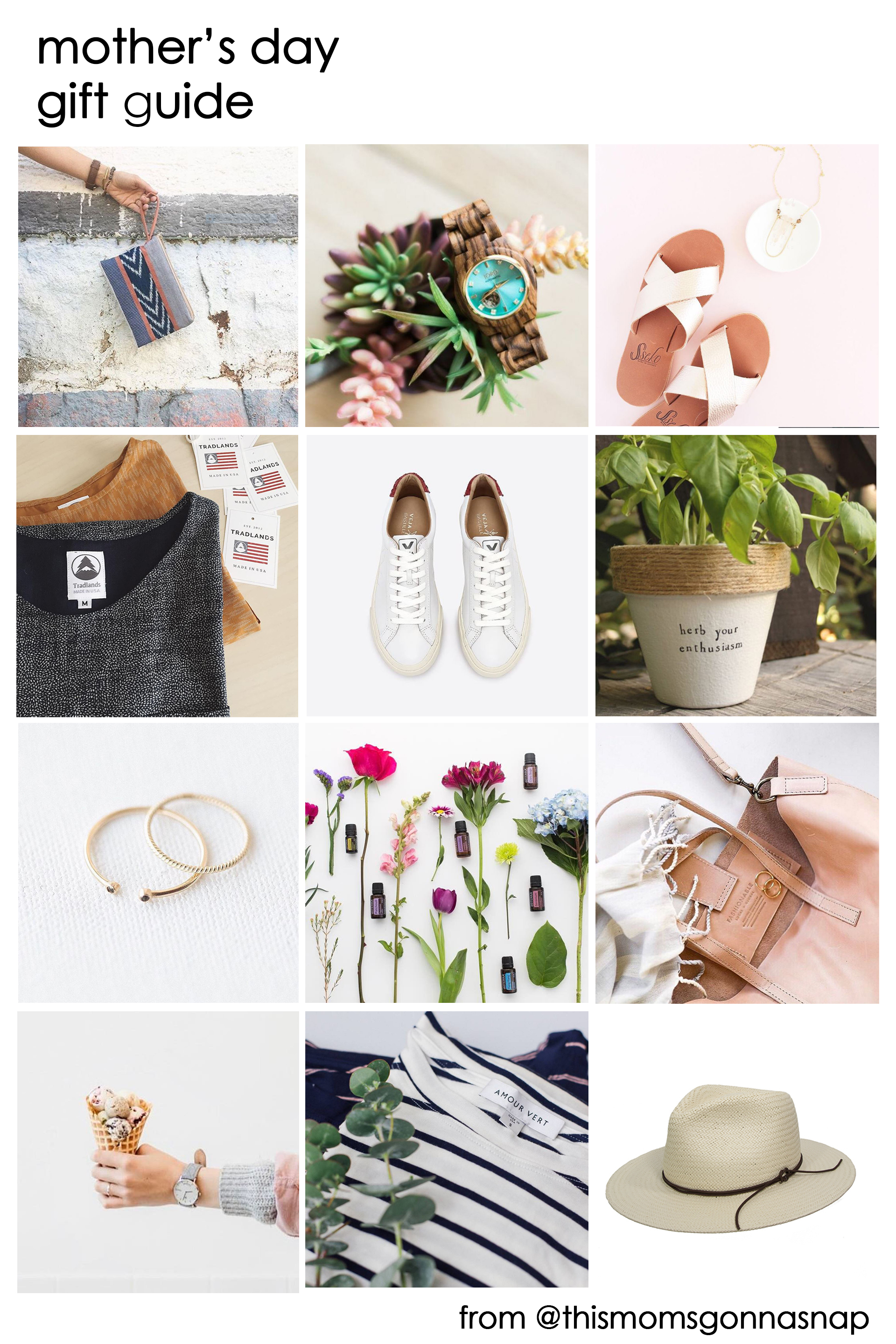 (all images via Instagram)
Handy wristlet from Storyweaver Mercantile. They stock the prettiest little artisan goods, and at very reasonable prices. Plus, they were kind enough to give us all 15% off purchases through Mother's Day!! Use exclusive code: TMGS15 to activate.
Wood watch from Jord. They have good sustainability practices and the watches are truly unique looking. I get compliments and questions about mine all the time!
Rose gold crossover sandals from Sseko. I own several of their sandals. They're comfortable and the company is giving back to their community of women artists + makers. Sseko is rad and giving us 15% off purchases through the end of May with the code THISMOMSGONNASNAP15.
BNC shirt collection from Tradlands. I can't speak highly enough to the quality of these products, made in the USA. They've got a discount for us too!! $25 off any $100 purchase, plus free shipping and returns!! Use exclusive code: mothersday to activate.
Rad sneakers from Veja. Every mom needs a good pair of sneakers, and these are made with organic materials and fair trade sourcing (AKA their workers get paid a living wage).
Kitschy planter from Plant Puns. I just think these are the cutest! Made in California, and perfect for any mom who is a plant-hoarder — or would like to be one!
Stacking ring from Mejuri. All their jewelry is really beautiful and ethically made.
Pretty diffuser for essential oils. If your mom or mama-friends are into oiling, a nice diffuser will keep their office or bedroom smelling good, and look so much more stylish than the plastic ones.
Leather goods or jewelry from FashionABLE. I love everything from this brand. From the beautiful totes and handbags to the personalized jewelry. Everything is made by women in communities where opportunities are limited, providing them fair employment and long term solutions to use their creativity to fight poverty. I mean, you really can't go wrong.
Watch from Arvo. I've always loved these watches because of their ultra cool minimalist look at great price point. Their customer service is fantastic too. Right now, they are offering 20% off + free shipping with the code MD17.
Classic stripe tee from AmourVert. I'm just learning about this sustainable brand, and I'm excited to try their stuff and support the company.
Straw hat from Rag + Bone. The hat is the most expensive thing on my list, but come one. It's rad. And made in the USA. I feel like I could live in it during summer time.
And of course SPA DAY GIFT CARDS. No explanation necessary.
Maybe this will be a good jumping off point to find the perfect gift. Or maybe you just want to treat yoself. But regardless, I hope when you're honoring the mothers in your life over the next couple weeks, you take the time to be thoughtful with your gifts. Whether that means you buy something sustainable or you write a nice card — the intention behind the giving is the important thing to make any mother (or woman in general, for that matter) feel special. Of course we all know Mother's Day isn't about the gifts.
But it can't hurt…
Anything on this list catch your eye for giving or getting?
Loves,
jaana