I have been meaning to share some of my sewing projects with you guys for quite some time.  I get all these ideas for tutorials and videos and (as usual) plans for blog amazingness.
However… it's also one of those hobbies for me that when inspiration strikes, I need to do it RIGHT THEN AND THERE and forget all the planning and videos and instructions and just SEW NOW.
So that's how that's been going.  As with most of my ideas, I don't fully want to commit to the work of bringing them to life.  In the blogger way, that is.
I did get around to making one simple tutorial a couple months back on my Instagram Stories (now you can find it here) and even that!  Something that usually takes me about 60-90 minutes to sew ended up taking me over 4 hours while making the video — not including the editing.  It's just a lot of work, and I have such limited time while Stevie is at school that it feels too big.
BUT ANYWAY, I've mostly been working on perfecting my simple square tops and simple elastic-waist pants.  Oooooooh peak fashion!
It's been good practice though.  My first few pieces didn't really hold up because my construction was shotty.  Now I'm learning from my mistakes and seeing a lot of improvement.  Yay!
HAREM PANTS:
These were one of my earlier pieces.  Some very simple pants, that I made soooooooo many mistakes on.  Even one of the pockets is still sewn inside out. Oops. I'm sure I'll fix it eventually, but I honestly don't wear these much because I'm a little worried about them falling apart.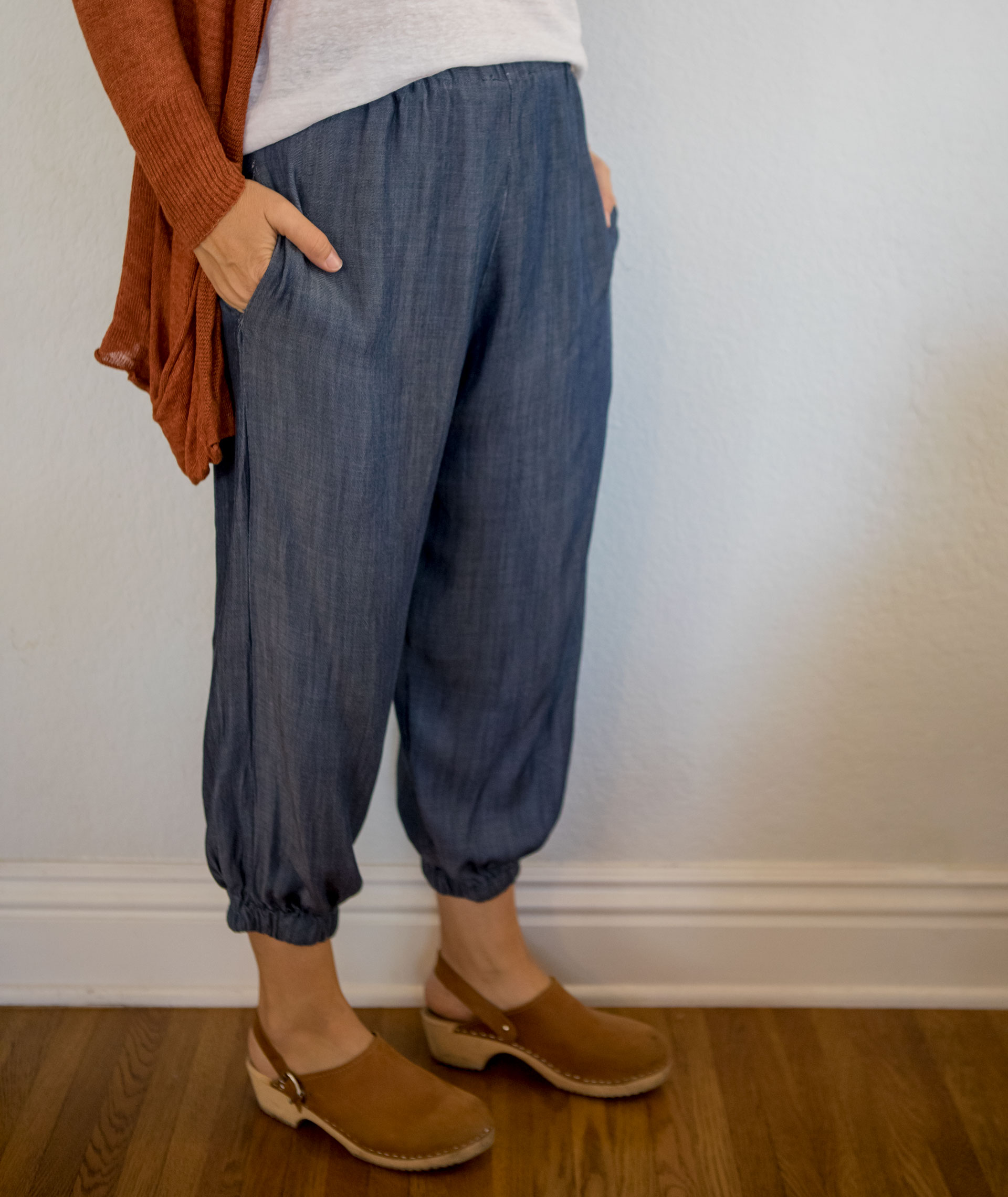 OVERALL DRESS:
I'm still torn about this dress.  I think it's a cute look, but not realistic for my life.  I have a feeling it'll will be turned into a skirt or shorts somewhat soon.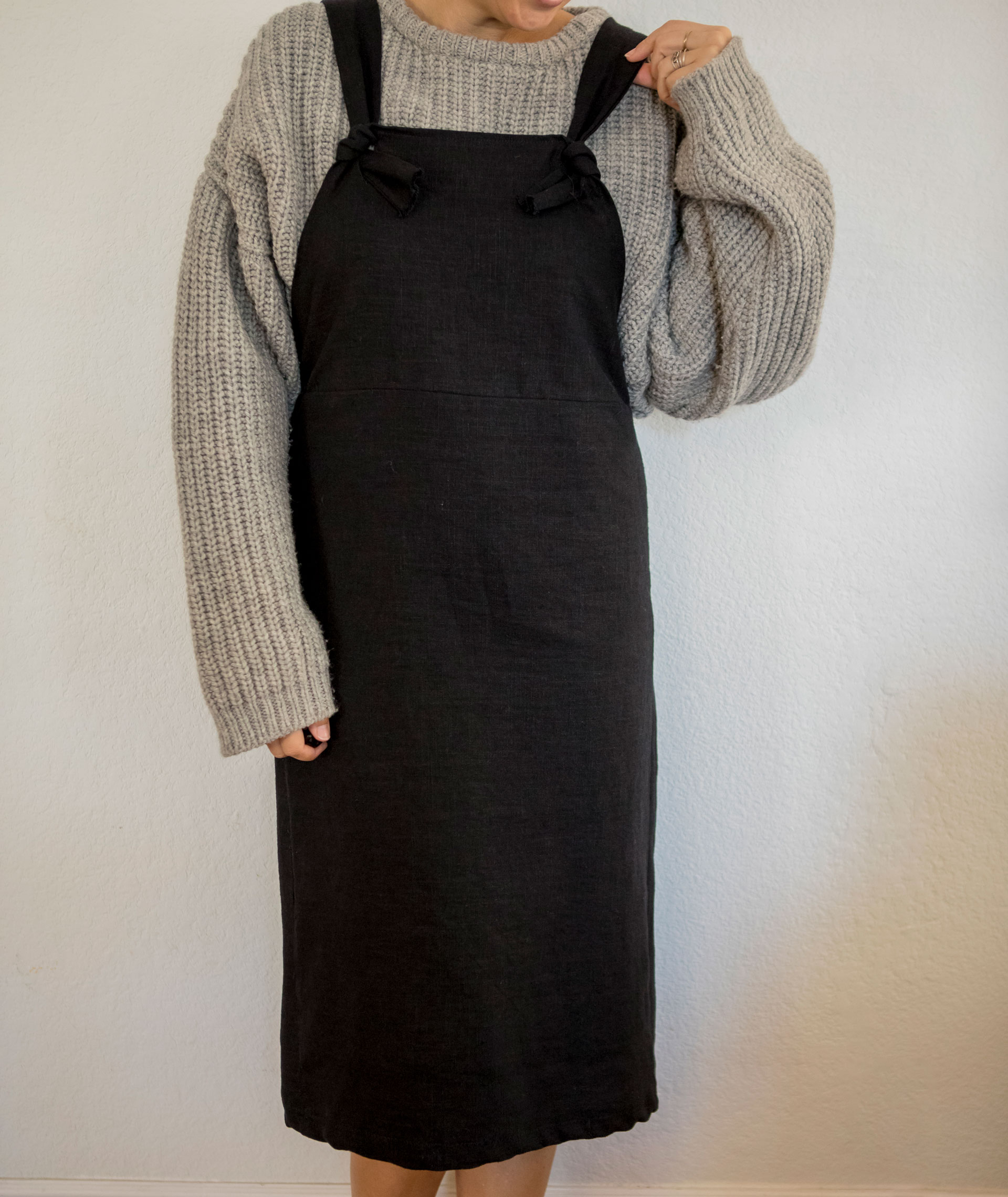 CORDUROY PANTS:
I originally had no plans to make corduroy pants.  While perusing the store, I was just looking for some stiff cotton.  But this color was everything (and deeply discounted). So I couldn't resist!  They came together really easily too, so I love them.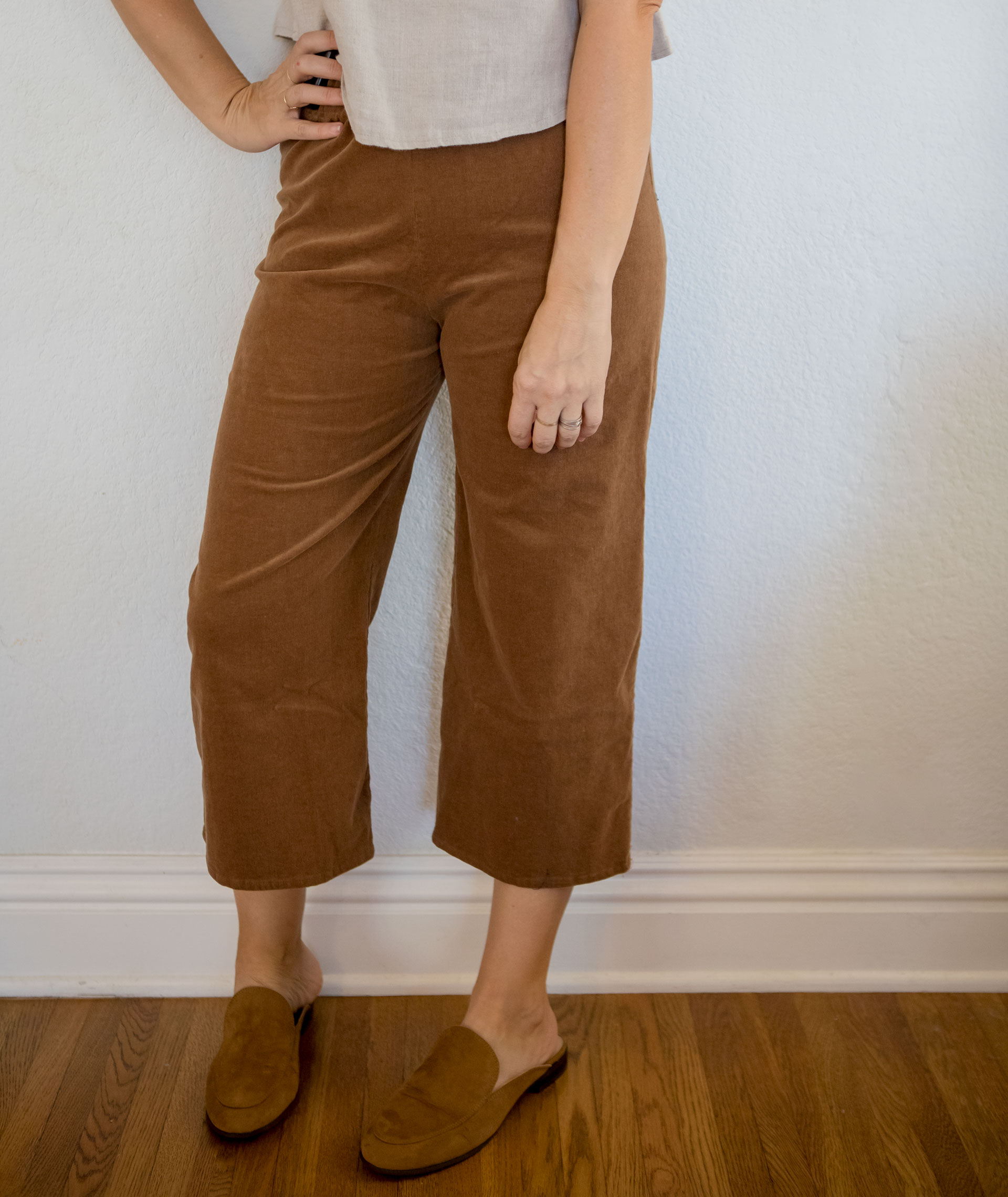 KIMONO COAT:
I'm obsessed with this color and you will find it all throughout my house.  I originally made a dress with this fabric — but I wasn't crazy about the fit.  So I cut it right up the middle, moved the pockets and added some sleeves to make this cute, lightweight coat.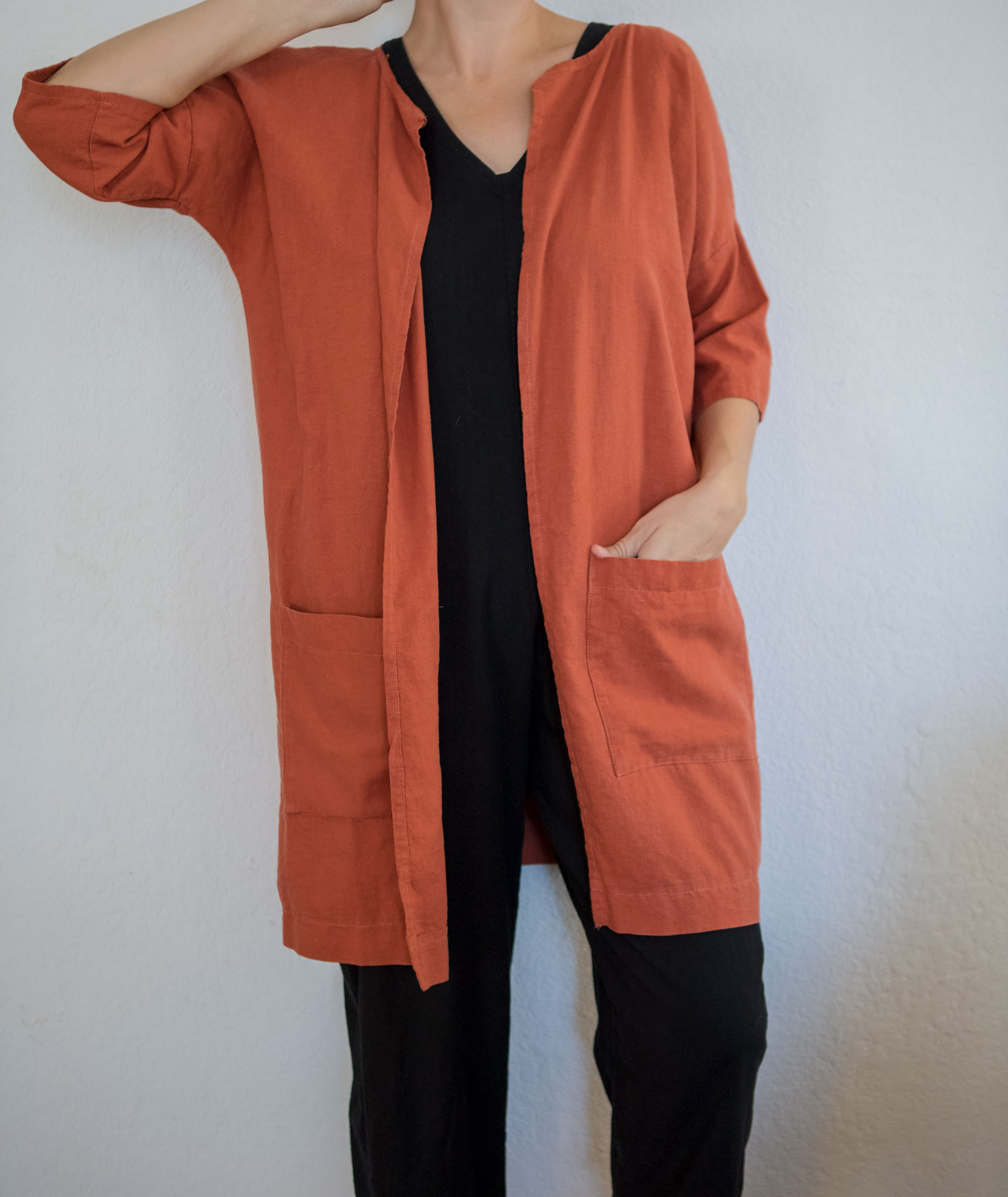 MATCHING CULOTTES SET:
I get so many compliments on these pants.  I'm sworn to sew them for every woman in my mom's group.  But the top… meh.  I thought it was a cute idea to be able to tie it in front or back, but when wearing in real life, it's very cumbersome and bunches up a lot.  So I still need to figure out what to do with it.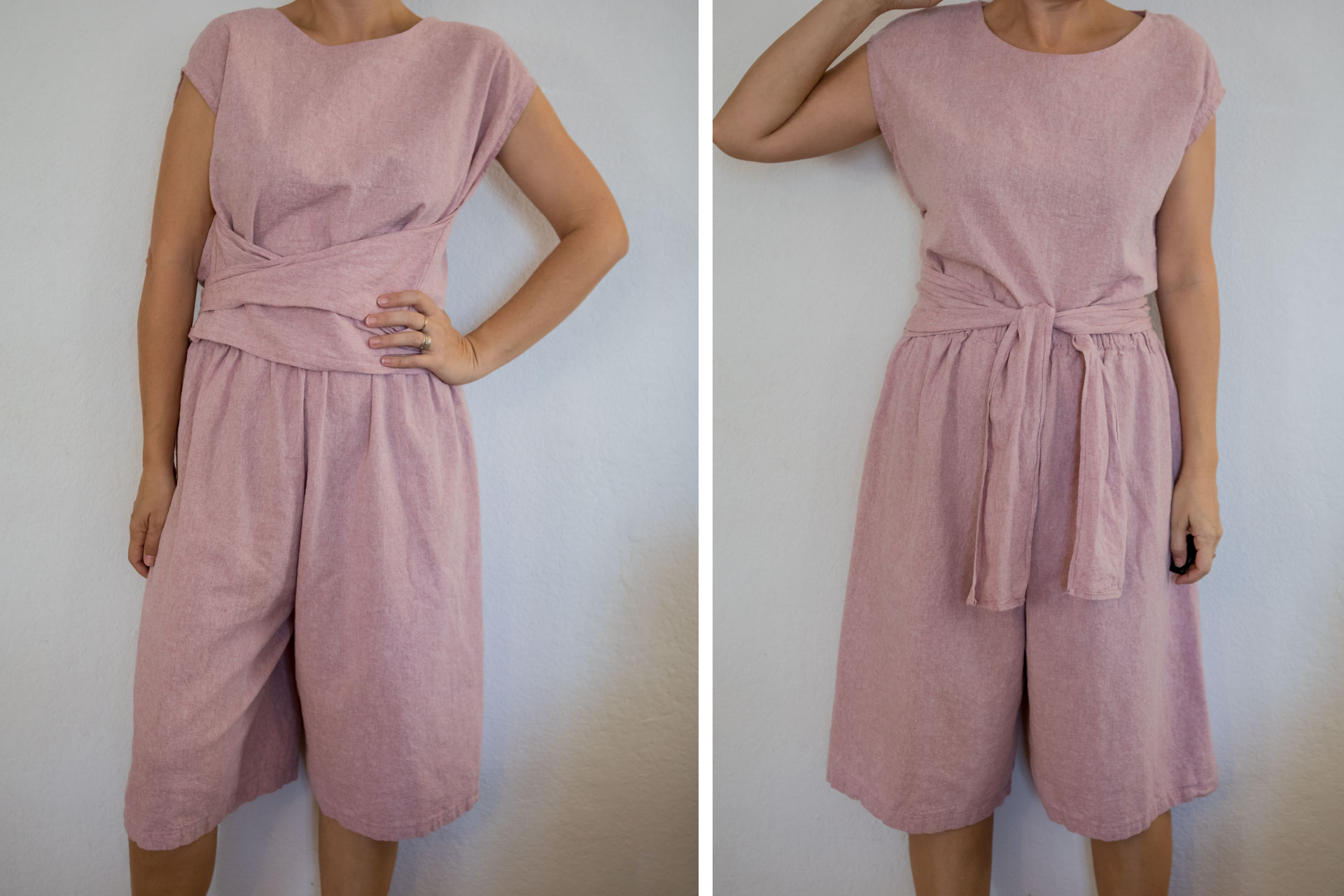 MATCHING PANTS SET:
My fave.  Black.  Elastic waist.  Linen.  The. Easiest. Outfit. Ever.  As a romper enthusiast, I love that it looks like one, but there are no fit issues and I don't have to get completely naked to use the bathroom.  I can pair it with any shoes or mix and match with pretty much anything else in my closet.  Yay!  The best part is that each piece only took me a little over an hour to make.  Faster than going to the store!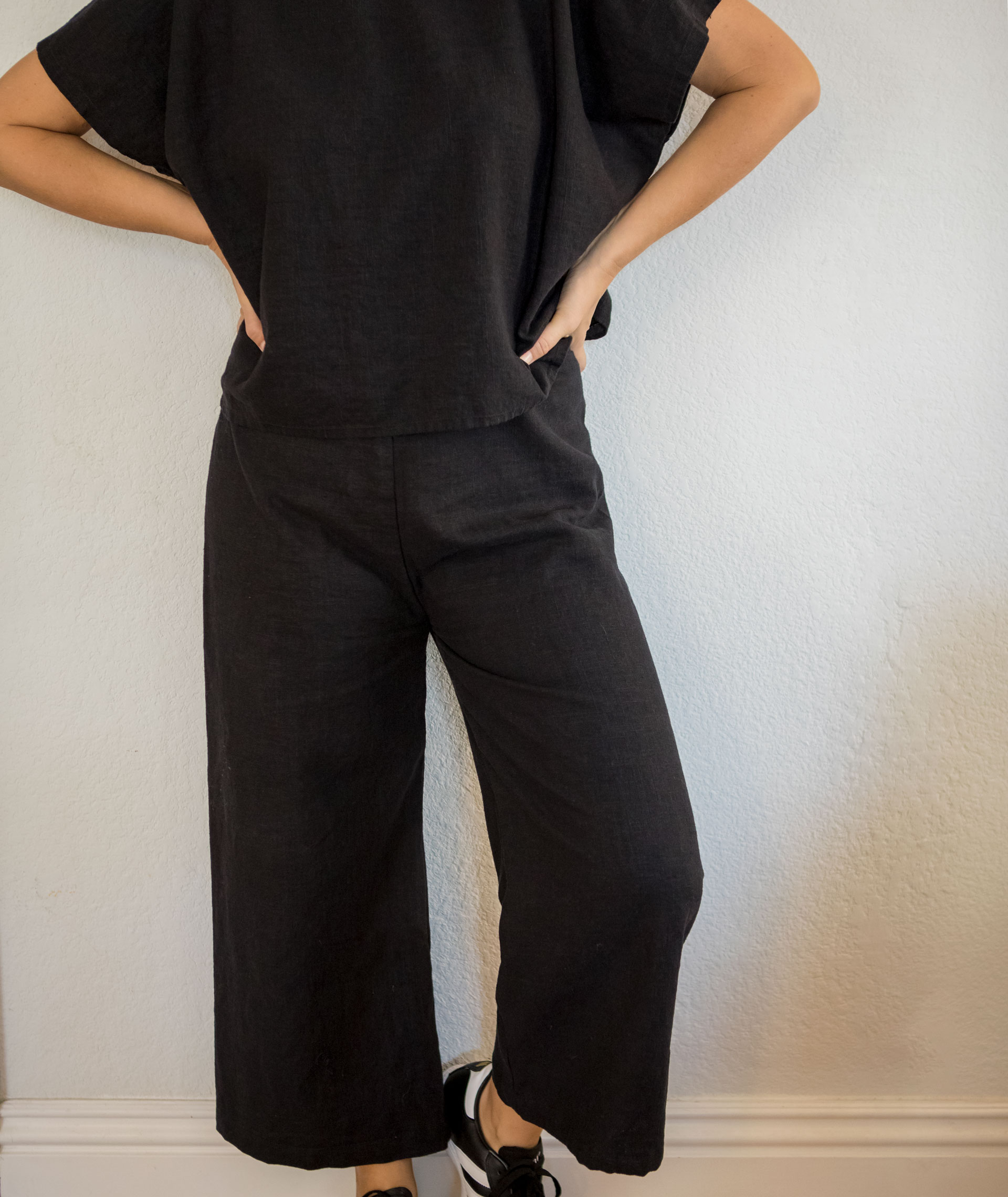 MATCHING SHORTS SET:
Well, ok, we now know I love matching sets.  They can be a little juvenile, but there are just so many ways to wear them when you mix and match.  The shorts are kind of on their last leg… I didn't realize I needed so much seam allowance when working with linen, so they've been fraying and I keep sewing reinforcing stitches (but they're getting smaller and smaller as they fall apart!)  The top is easy breezy, and I wear it a lot.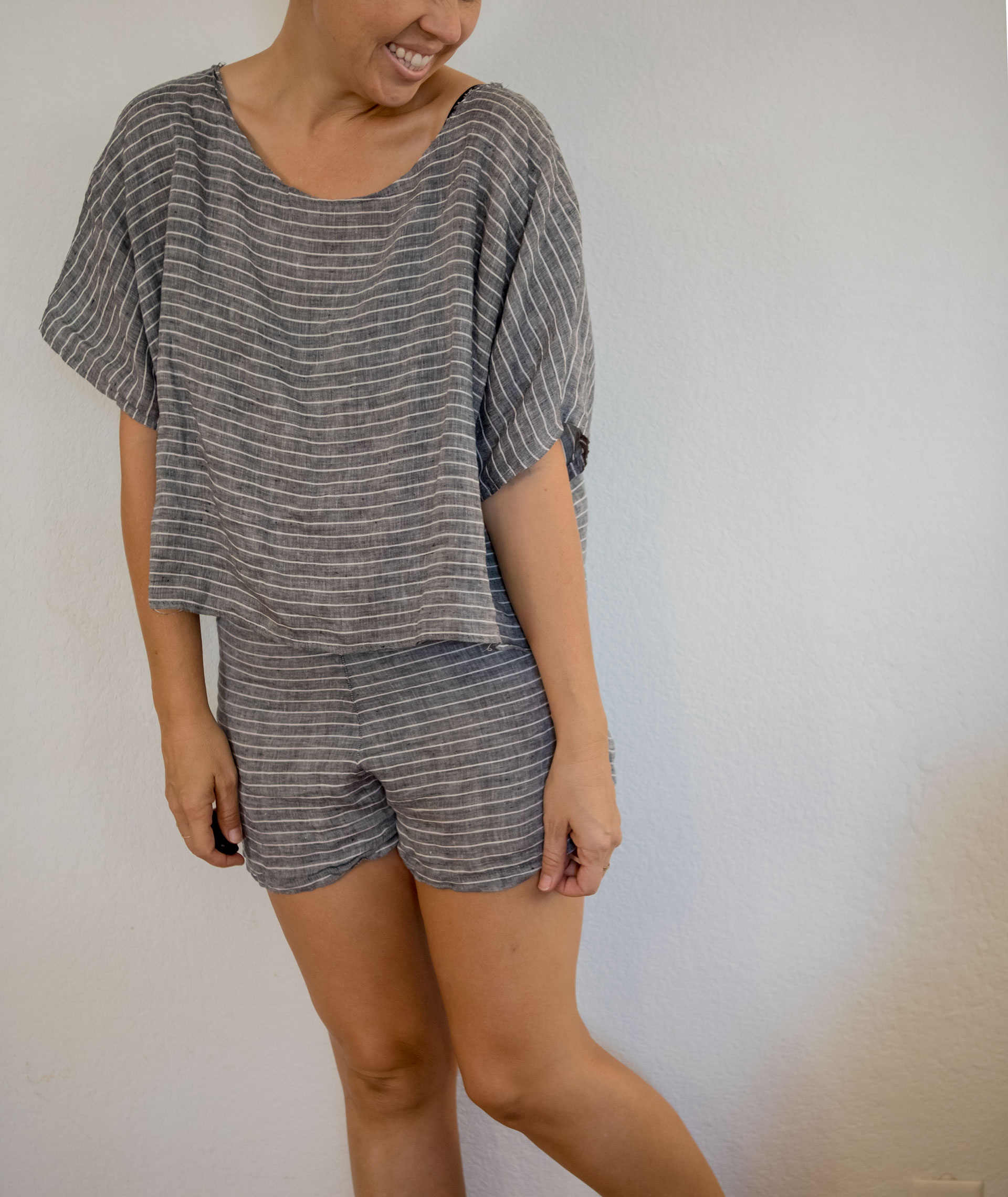 OVERSIZE LINEN TOP:
This is basically the top I made in the video tutorial, but I added a pocket.  It's so comfortable and light, it was definitely a top contender in my closet this Summer (and hot Fall).  I wish the neckline wasn't quite so wide, but other than that, it's a winner.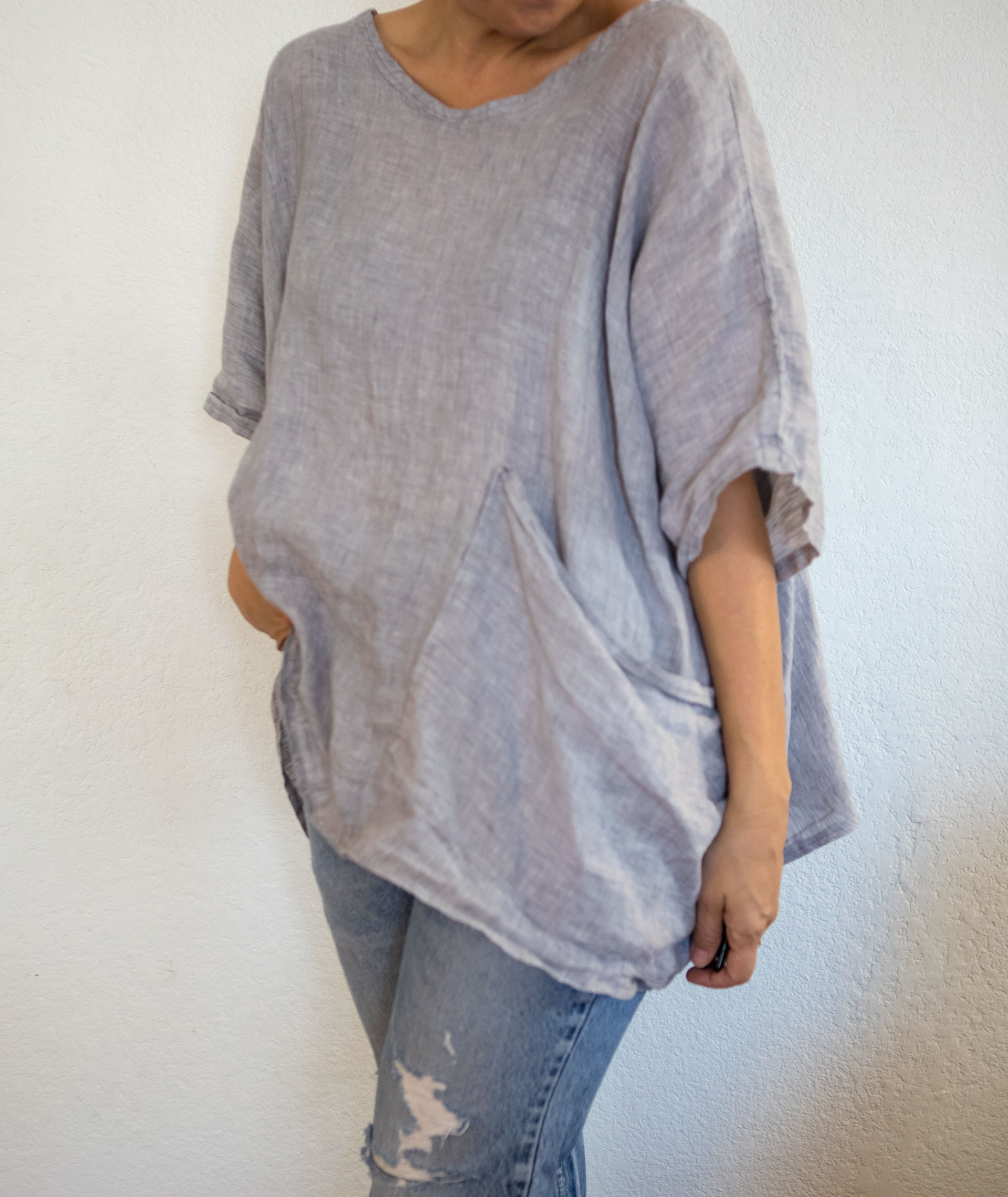 So there ya go.  Not bad for someone who has never used a pattern, works with the "fisher-price of sewing machines" (as my husband calls it) and has learned everything she knows from YouTube!
The reality that I can't actually wear most of these things until it cools down is only slightly more annoying than when Stevie coughs on me without covering his mouth.  What is up with that though.
Are there any of you out there who would like to see more simple sewing tutorials?
loves,
jaana