I have felt really challenged by my clothes lately.  Almost 2 years ago, I made the decision to veto any and all fast-fashion purchases (which is essentially cheap clothes made quickly to satisfy a place in the market for the most up-to-date, current trends).  But not only that, I wanted to cut back on purchases overall, and for the few clothes that I did buy to be good quality, and made responsibly.  I tried to look at each purchase critically to see how it would fit into my big picture wardrobe.
But honestly, after some time doing this, I started to feel bored.  I kept thinking to myself  I used to have so much fun with my clothes!  I wasn't afraid of pattern and trends and trying new things.  Which can definitely be lost as you try and curate the most useful wardrobe possible.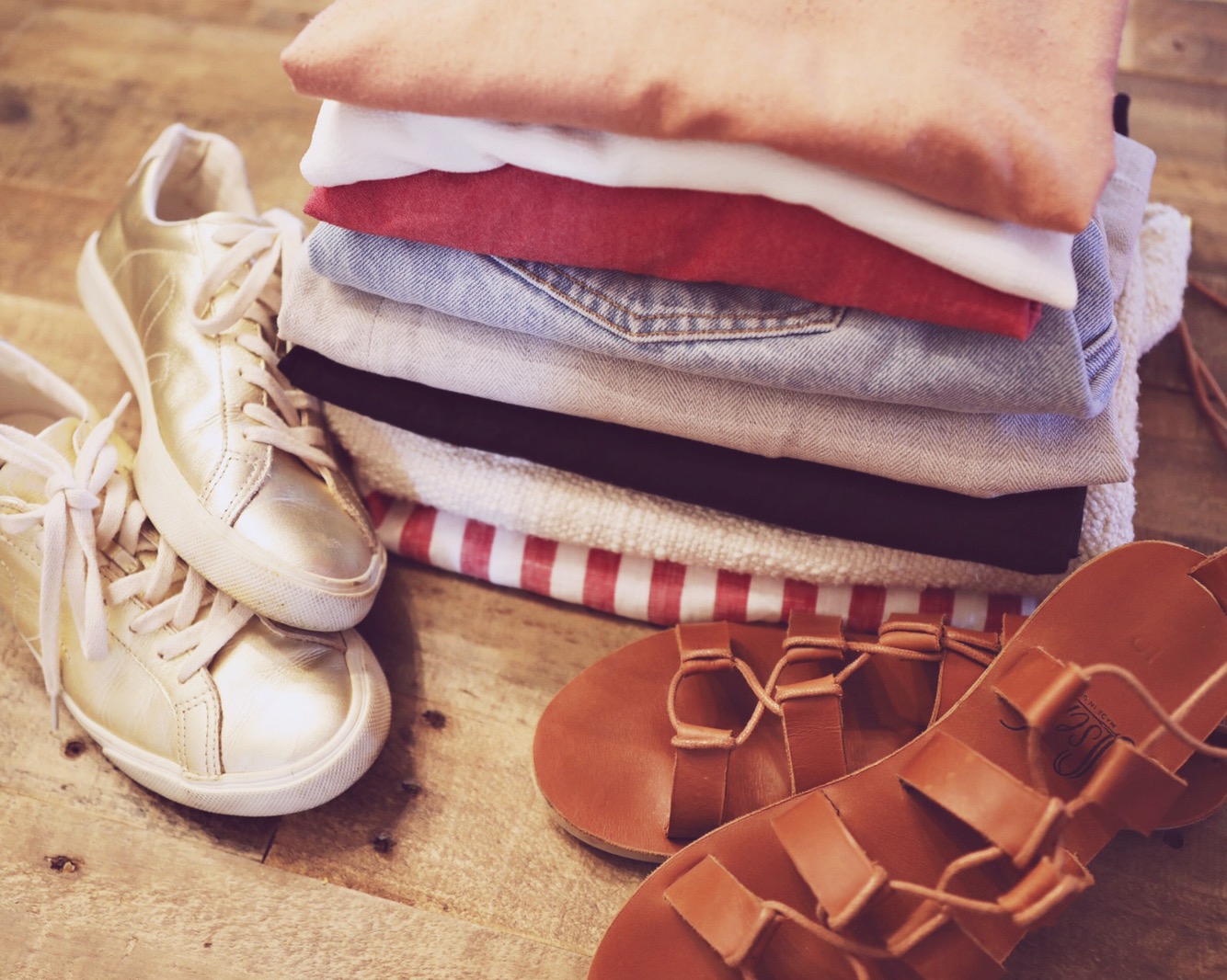 When I first started on this personal journey, it was exciting.  I was looking for clothes and shoes and bags and jewelry that supported causes or gave back to women in other countries or claimed to be ethically made with fair wages and no sweat shops.  And I started hearing this more and more: just because certain companies claim to have these standards doesn't always make it so.
Bummer.  I felt like my project had backfired in a sense.
So to fight the boredom, I next started thrift store shopping to add a bit of fun and excitement back in.  It's considered "sustainable" to buy second-hand because we are essentially keeping these clothes out of the landfills and out of other countries that are overrun by Americans' junk clothing.  I ended up buying stuff that was ok, and I thought I would wear, but when it came down to it, those pieces were just filler.  Impulse buys.  They had no place in my big picture wardrobe, and just ended up being donated again soon after.
Backfired again.
So, very recently, I decided the only way to fight these claims against ethical companies and practice true sustainability standards was for me to ultimately go back to buying less.  High quality items from companies in the US whose processes can be tracked and accounted for.
And guess what?  So far, it is working — as in I'm feeling satisfied again.
Not to oversell it, and not to say my feelings will never change, but each item that I have planned and saved for has been magnificent, to say the least.  They are made to order, arrive in beautiful packaging, incredible to the touch, easy to care for — the list goes on and on.  It's been amazing to see the difference in quality and the lasting joy these pieces bring me.  They feel REALLY GOOD TO WEAR.  EVERY TIME. Bottom line.
Another way to battle the boredom has been to participate in style challenges.  And it's about time for one right now!
The Spring 10×10 Challenge, hosted by Caroline of Unfancy and Lee of Style Bee, starts Monday!  It's an easy enough little project where you take 10 items of clothing (not including accessories) and come up with 10 different outfits over 10 days.  I have participated before and it's a great way to really use your creativity and try to come up with new looks in your existing wardrobe.  No purchases, no purging.  Just shop your closet and see what you come up with!
Here are my 10 items: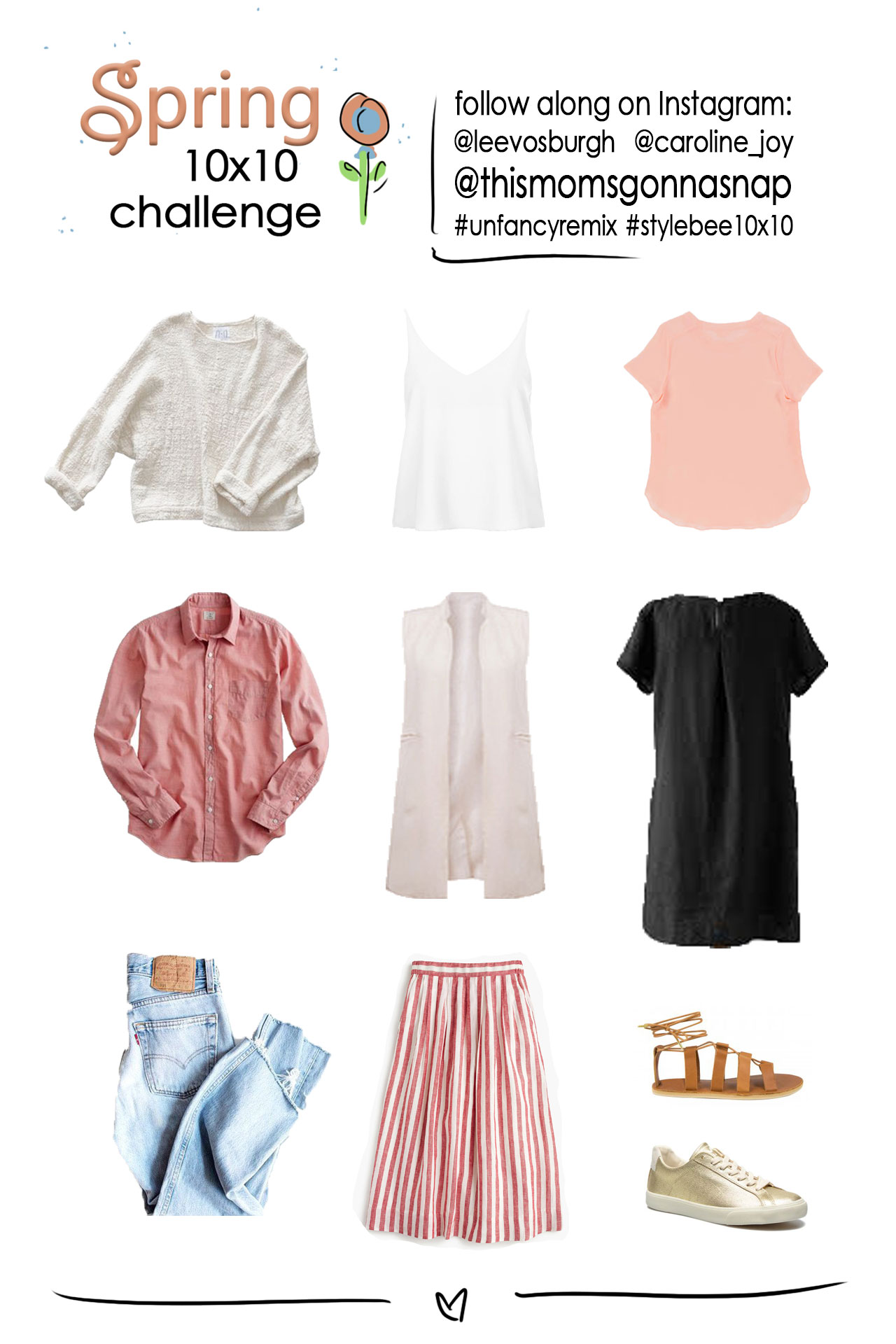 cream sweater: jamie + the jones (sold out)
white cami: american apparel (old)
pink tee: jamie + the jones
red chambray button up: tradlands (old)
linen vest: thrifted
black linen dress: sewn by me!
mom jeans: levis
stripe skirt: j. crew (sold out)
strappy sandals: sseko designs
gold sneakers: veja
If you join along, be sure to use the hashtags #stylebee10x10, #unfancyremix, or #spring10x10.  The online community of women who participate is awesome.  Lots of great ideas and support.
And tell me your thoughts on ethical/sustainable fashion!  Do you participate in the movement?
Loves,
jaana