February is full of hearts.  Pink hearts, red hearts, candy hearts, chocolate hearts.  But there's another type of heart that plays an important part.
Confirmed: I've been reading way too much Dr. Seuss.
This post is not to show off my rhyming skills, but to remind you that February is Heart Health Awareness Month!  CHD Awareness week is Feb 7-14, but you don't hear much about it.  I guess when most people see "Heart Health Awareness" – and correct me if I'm wrong – we imagine women in red dresses talking to the masses about heart disease and blood pressure.  But there's a bunch of itty bitty people we are forgetting.  All the little babies!  Did you know that 1 out of 100 babies is diagnosed with some type of heart defect?  It's not really that rare.  In fact, its like the most common birth defect in the U.S.  Sure, out of that percentage, some baby's heart defects are more rare or more severe than others, but 1 out of 100.  I mean, when I heard that, it kind of blew my mind.  Stevie's actually 1 in 5,000 for his particular heart defect, but it still seems like I would know more people who had kids with heart defects.  I sometimes feel like we're on this lonely island with not many people to relate too.
But people are out there.  And they are trying to spread the word.  I feel like I should do my part, just based on my own experience.  I recently learned that only about 20% of heart defects are detected through normal pregnancy ultra sounds.  Some people choose to do a "Fetal Echo" where the technician takes a closer look specifically at the heart.  We didn't do that because we didn't feel we were at risk.  (Lessons learned for the next one!) CVS and Amniocentesis do not detect heart defects either.  They can detect a couple genetic diseases where heart defects are more common, but not the heart defect itself.  I personally did not feel comfortable with those tests.  So I didn't do those anyway, but I think it's a misconception that they detect any and all possible issues.
So. If all that isn't your thing either, I highly encourage parents to get their newborns screened with a "Pulse Ox" test.  It's a very simple, non-invasive test that takes about a minute.  The doc will attach a little monitor to the baby's hand or foot and make sure they have proper oxygen levels.  Not much worse than taking a temperature, honestly.  In Stevie's case, this test wouldn't have found anything when he was first born, but that was what they used at his 2-week check up to confirm that something wasn't right.  And he had a Pulse Ox done at every doctor's appointment for the next year.  After his heart repair surgery in October of 2011, nothing made us more excited than seeing those oxygen levels at 100%.  Wow.
You all have to know, I am so not a paranoid person.  And I don't want to scare people.  But it could save a little life.  So it doesn't hurt to ask.  Pulso Ox test.  That's it!  Happy Heart Month.  Wear red if ya want to!  I'll be rocking my red nails with a blue heart.  And red lips to boot!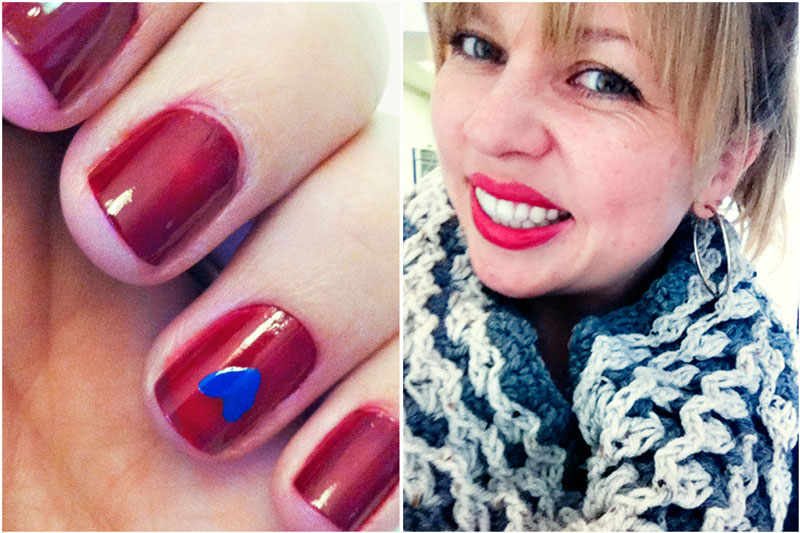 Click here to read about the dangers of the chicken pox vaccine for heart babies on aspirin.