Happy Friday!  I have been getting a lot of questions about vintage Levi's.  And most of those questions include "WHY DON'T LEVI'S FIT ME?"
It's an understandable question.
They are difficult to fit.  All Levi's are certainly not created equal.  Even the year that they're made can completely change the look.  So this can be a process, to say the least.
With most jeans you can go into a dressing room and quickly see how they look.  A lot of thrift stores don't have that option.  And even when they do, you grab a raggy pair in your size and excitedly march to the dressing room… only to WHAAAAT!  Totally wrong size, fit, everything.
So, after several attempts myself (plus a few more after that), I have figured out which vintage Levi's are best for my body.  But I'll also show you how other Levi's fit because OBVI we all have different bodies and preferences.  I wish I could show you ALL the jeans, but we'll start here.  Hopefully it will help you narrow down a style you can get behind.
And speaking of behinds, there is no where on the planet where you will see this many photos of mine.  And I apologize in advance.  Try to be objective.
First up, my size information:
I'm typically safe in a size Medium.  Jeans size 6/8 in most mainstream brands.  And at Madewell, I'm a 28 regular.  Vintage Levi's?  SIZE 33!!  As if!  I was very offended by this at first.  But good jeans are good jeans, so I deal with it.  And vintage denim doesn't have as much stretch as modern jeans, she whispers to herself.
On that note — my first, number one, most important tip while hunting down the perfect Levi's is don't get hung up on the size number — even though it's broadcast right there on your butt. Keep in mind, it's better to size up a little bit — and scratch out that number later, if you must — so you can tailor if necessary.
501's Straight, Men's Size 30×30 (10-inch rise)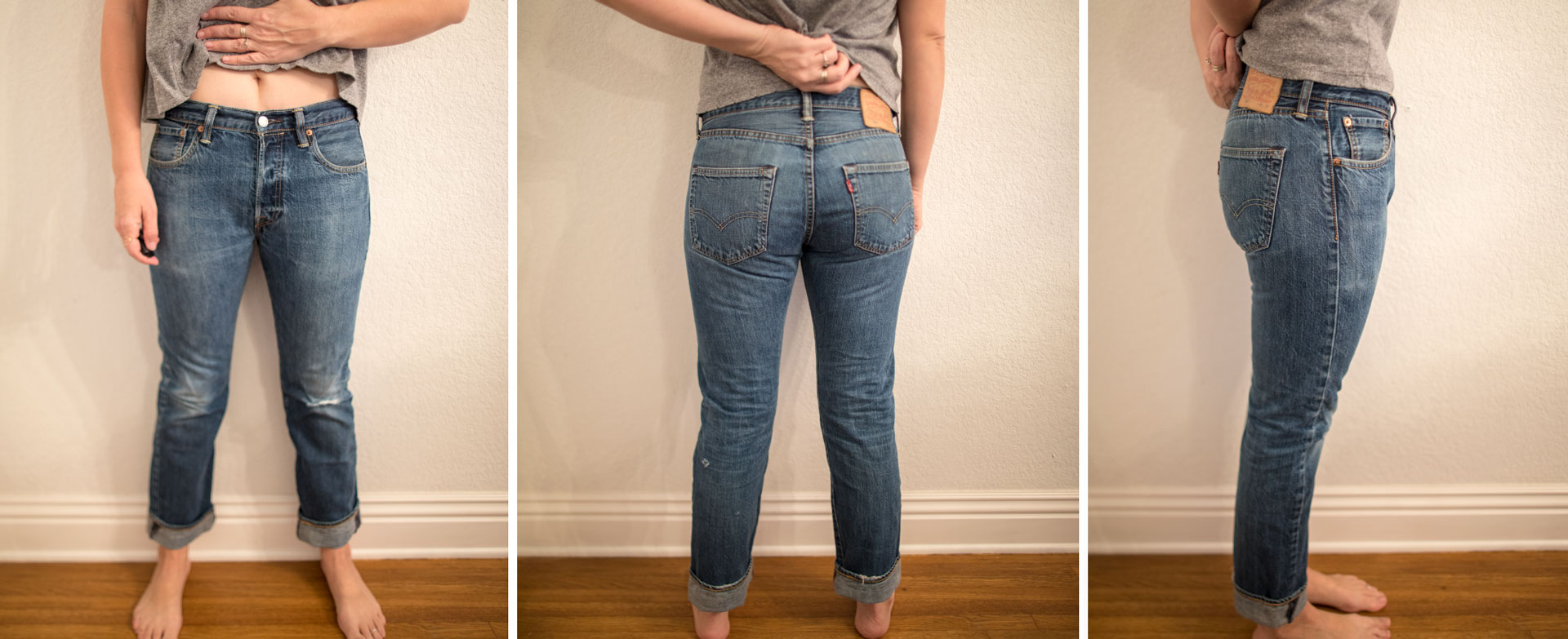 These are the most sought after Levi's, but probably the hardest to fit.  These particular ones are my "goal pants", but the goal is slow coming.  There is definitely something to be said for the tooshy situation.  The pockets are placed perfectly and the hip area is filled in nicely.  Sadly though, that means the tapered waist digs into my hips too much.  So you think sizing up would be the perfect solution…  But when sizing up to fit the waist, the thigh area tends to look a bit too baggy (see below).  If you have a tiny waist, these may be for you!
501's Straight, Men's Size 34×32 (12-inch rise)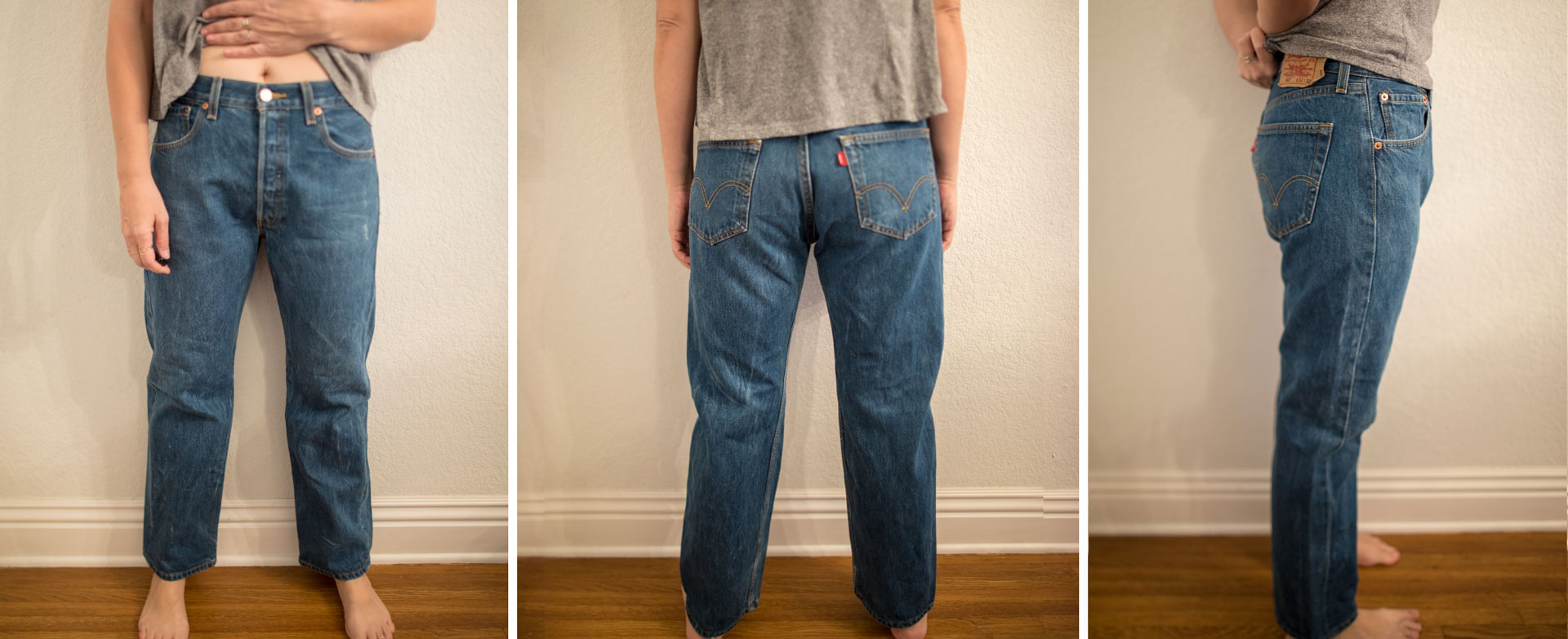 These have the perfect front rise for me… but they also look the worst!  Full on manly men's jeans.  The booty situation is decent (which seems like the big sell for 501's) but for them to drop down into that wide, straight leg, they loses any sense of femininity.  I can tell these are newer, and not true vintage, because of the inside tag.  And for that reason, I think they have a more modern fit than the old 501's.  Still, when they are sized up to fit properly on my waist, they are quite a bit bigger in the thigh and crotch area. Not the look I'm going for.
501's Straight, Men's Size 34×32 (11.5-inch rise)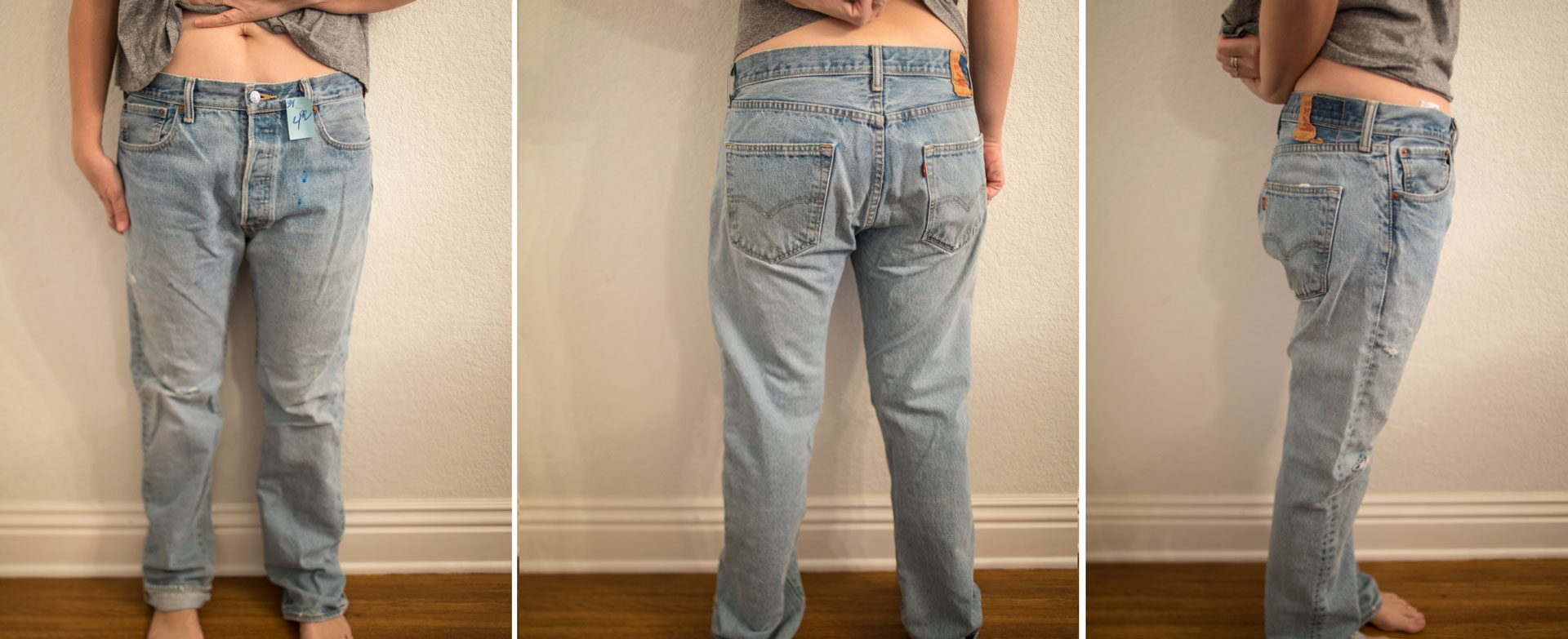 Here's me trying 501's AGAIN.  And I'm sure it won't be last time.  I really, really want them to work, if you couldn't tell.  These are the same size as the ones directly above, and sheesh!  They look so different, don't they?  Much looser fit in the waist. I think these are true vintage (most likely more than 20 years old) and while I do like the rise of them and the more tapered leg, those baggy thighs just mess me up.  I don't know if that comes from wear or if they're just like that. I haven't given up yet — I'm still on the lookout for some sizes in between 30 and 34 to see if those magical 501's exist. Quick question: Do you own a pair? If so, did you get them tailored?
505's Regular, Men's Size 32×27 (9.5-inch rise)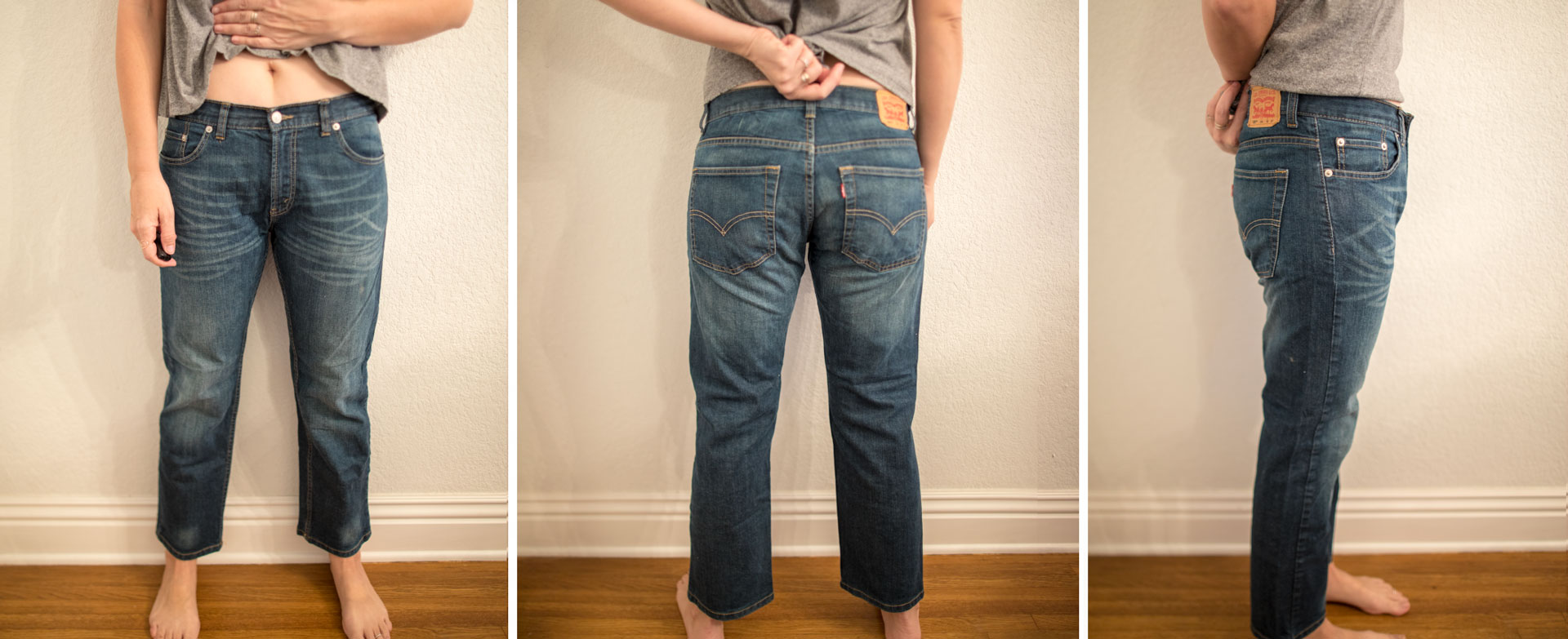 I just noticed that the tag on these has a 12H…  And yes.  I've also just learned that the H stands for HUSKY. LOLOLOL OMG.  Are they kids jeans?!! Well, I don't know — but they fit great.  Haha! Especially for a low rise.  They don't say low rise on the tag, but they most definitely are.  And low rise isn't usually my thing, but they are very reminiscent of my Gap boyfriend jeans, which are an old favorite.  I love the cropped length (27″ inseam) and how the big booty pockets aren't placed too far apart. They don't dig in at the hips at all.  And when laid out flat, they look pretty straight cut from top to bottom.  So apparently the kid section isn't off limits?  Just beware the bend over!
511's Skinny, Men's Size 32×30 (10-inch rise)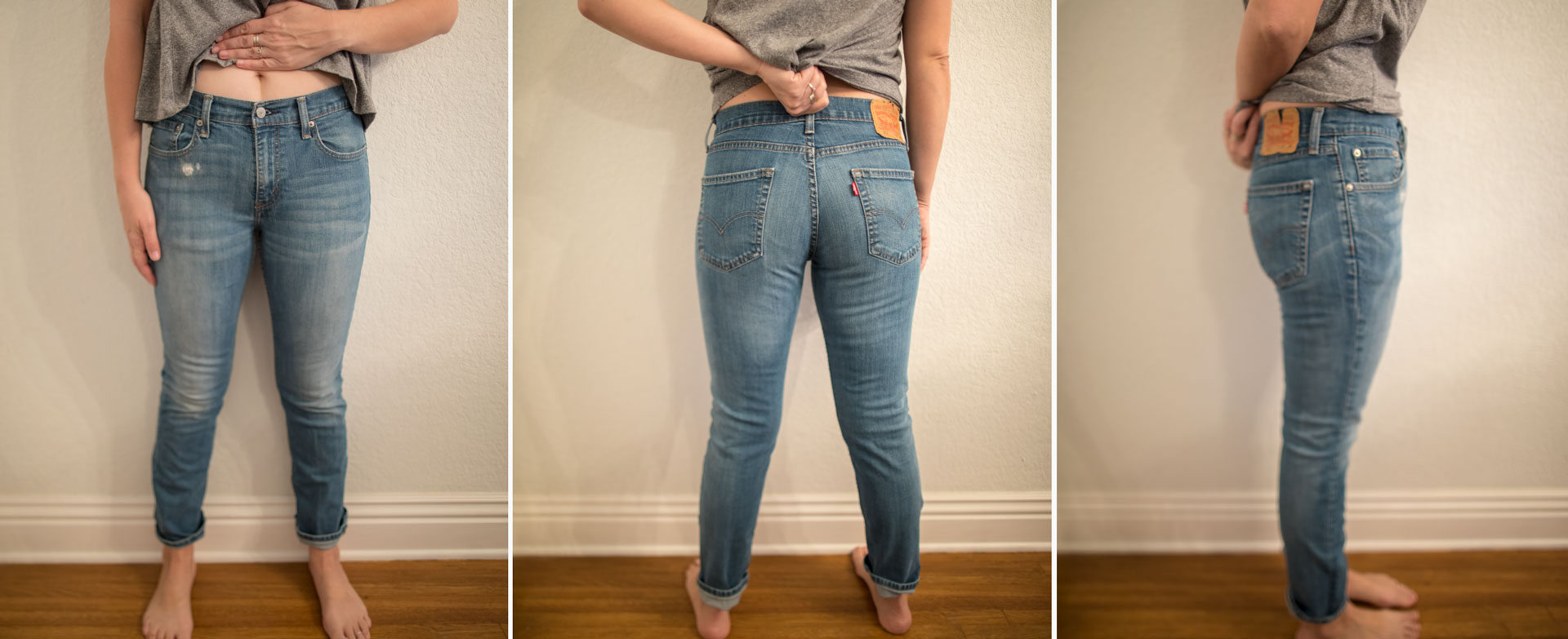 These are one of my favorite pair.  They're honestly a little snug here (freshly washed), but when they stretch after wearing a while, they are great work pants.  As a photographer, I need something with a slightly higher rise.  Even though I wouldn't consider these high-rise jeans, they actually have a good amount of coverage for my backside, so when I'm bending and squatting at work, they get the job done. A great option for those looking for a mid-rise skinny leg.  Side note: I tried these in a size 30 also, and couldn't get them up past my thighs.  Rude.
514's Slim Straight, Men's Size 33 (9.5-inch rise)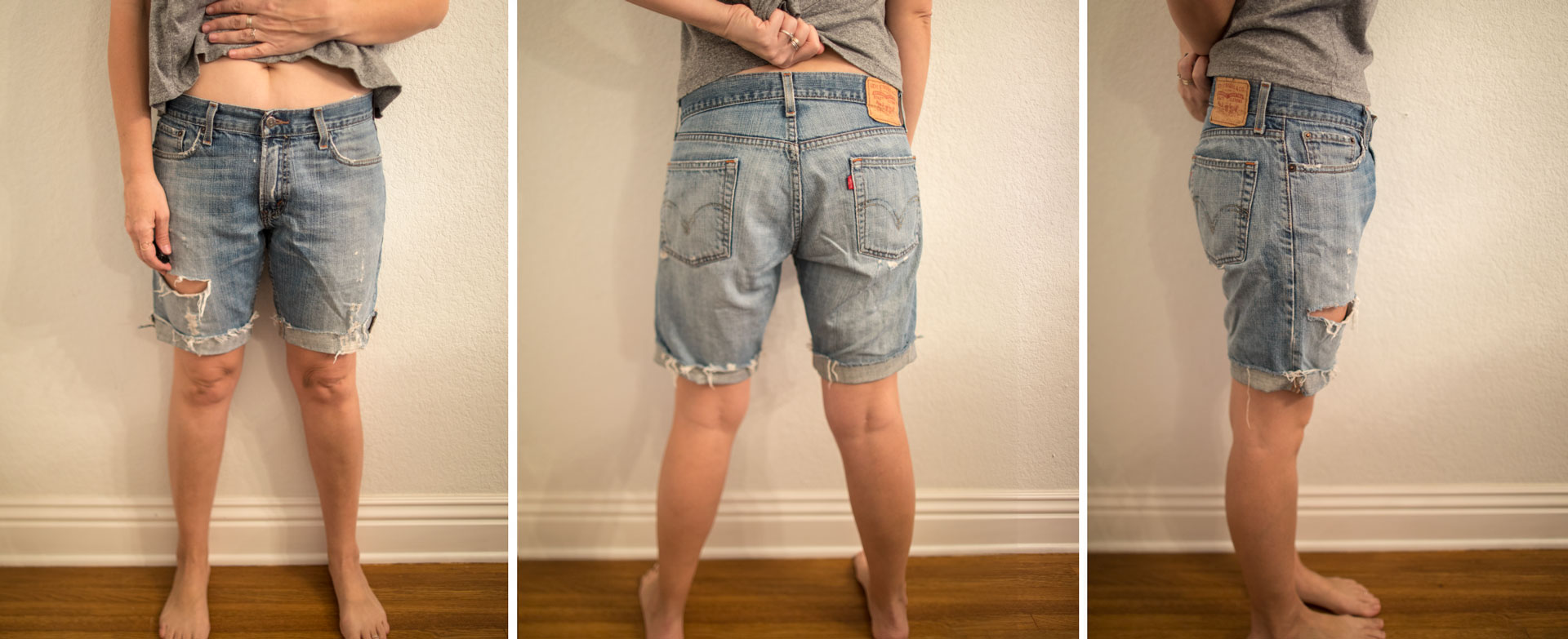 These have the lowest rise of any of the jeans I've tried and if I wore them in a smaller size (to fit my thighs/butt) they would look awful around my mid-section. Sized up was the look I wanted so they'd be baggy and worn low on the hips. And I wore these as pants until they literally fell apart at the knees and had to be cut into shorts.  There isn't really anything flattering about them, but they are extremely comfortable and soft — probably because they're just so old! (The older, the better in my book.)
517's Boot Cut, Men's Size 33×32 (12-inch rise)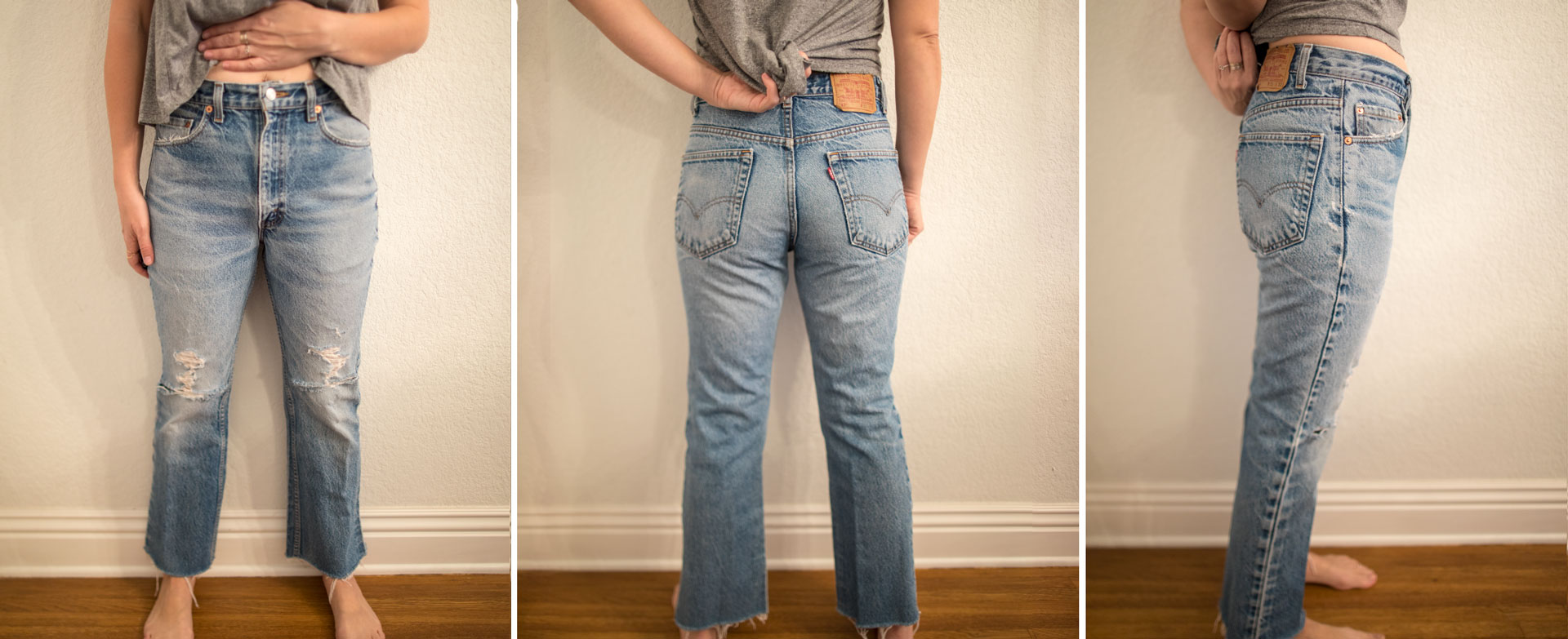 FAVORITE. FAVORITE. FAVORITE ALERT!  These are honestly the score of a lifetime.  I found them for $5 at the thrift shop and happily discovered that 517's are MY best denim.  They are very high rise, coming all the way up to cover my belly button.  They nip in at the waist just enough and have some room in the hips and thighs without being baggy, hugging all the right places.  They were already perfectly broken in and I just cut them to my desired length. I wear them the most of any jeans I own, and will surely ruin them soon.  (Luckily they have room to become the perfect shorts before they're just shredded completely.)  But I will always be on the lookout for more of these.
517's Boot Cut, Men's size 31×30 (11-inch rise)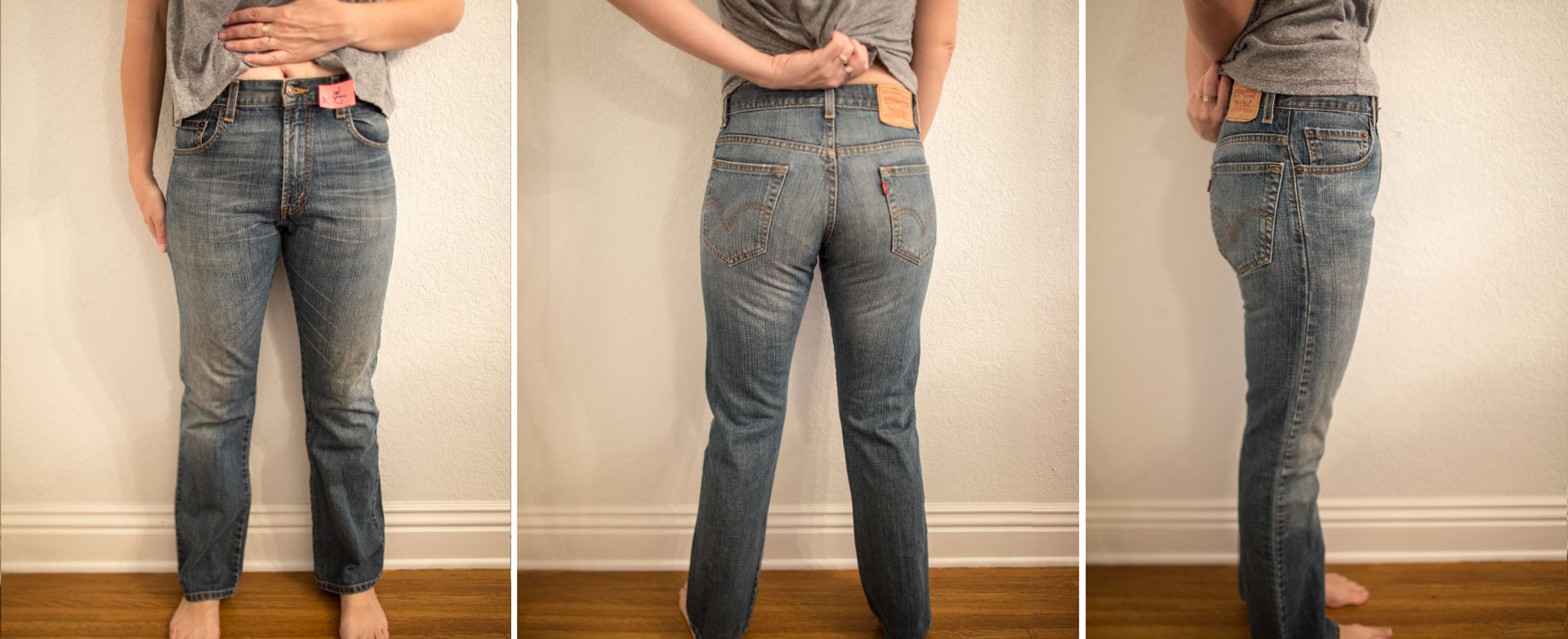 Since 517's are my absolute favorite (see above) I bought these, thinking they would be my next favorite!  Because five seventeeeeeens, son! Well, that smaller sizing makes a huge difference. These fit.  And by fit, I mean I could zip them up without any issues.  And they come aaaalmost all the way up to my belly button.  But they are SNUG.  While the other broken-in pair hang just right, these ones feel very squeezy.  They're not even really uncomfortable at all, they just don't have the same effect as my favorite pair, that's for sure.  These would be great for someone with my body type who's a small size 6. When thrifting, it is hard to find particular sizes, but it sure makes all the difference.
527's Low Boot Cut, Men's Size 32×30 (10.5-inch rise)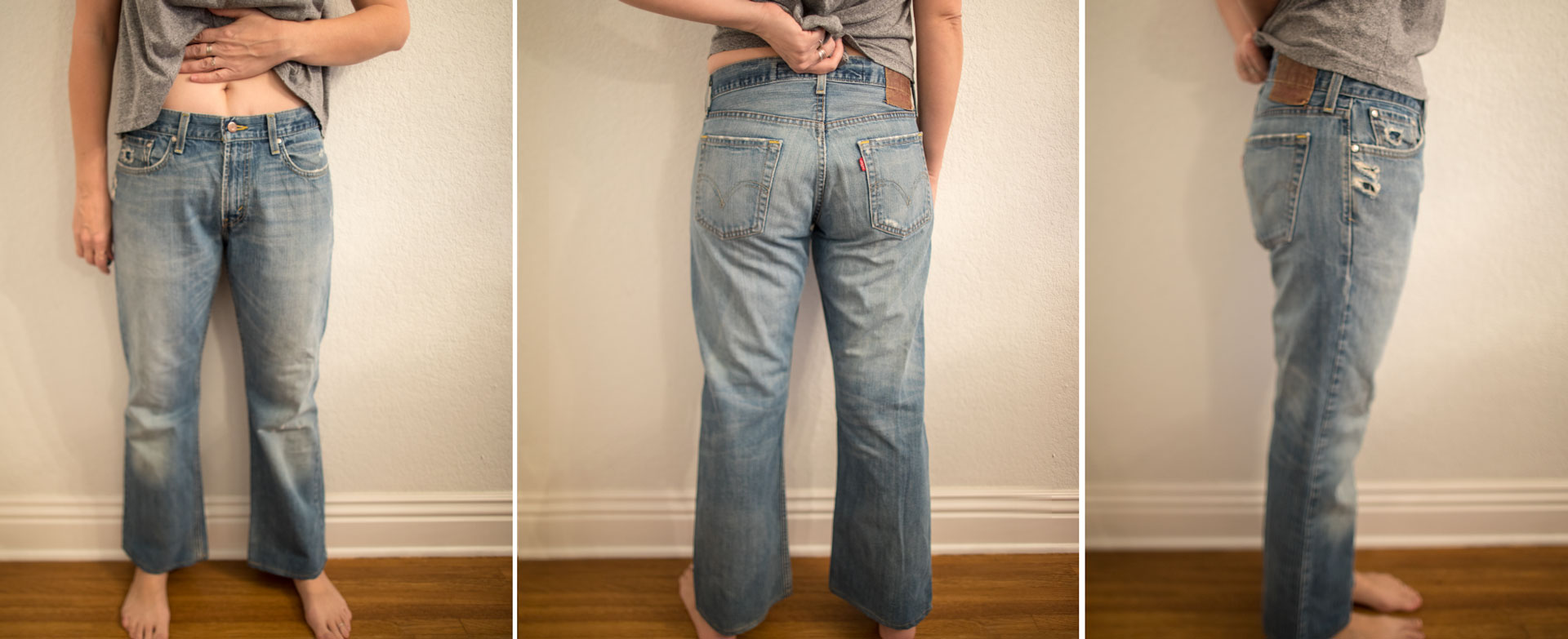 These live up to the name Low Boot Cut.  The rise definitely feels lower, and they are much more flared than the straight leg jeans.  The wide pocket placement is similar to the old 501's, which is cool.  When I bought these, I could tell they had been hemmed for a shorter individual (which means I'll probably cut them another inch or so for the crop flared look).  There is a good amount of room in the thigh area, without being overwhelming, so if you don't mind a slightly lower rise, I think these would work for a variety of sizes and body types.
550's Relaxed, Men's Size 33×30 (11.5-inch rise)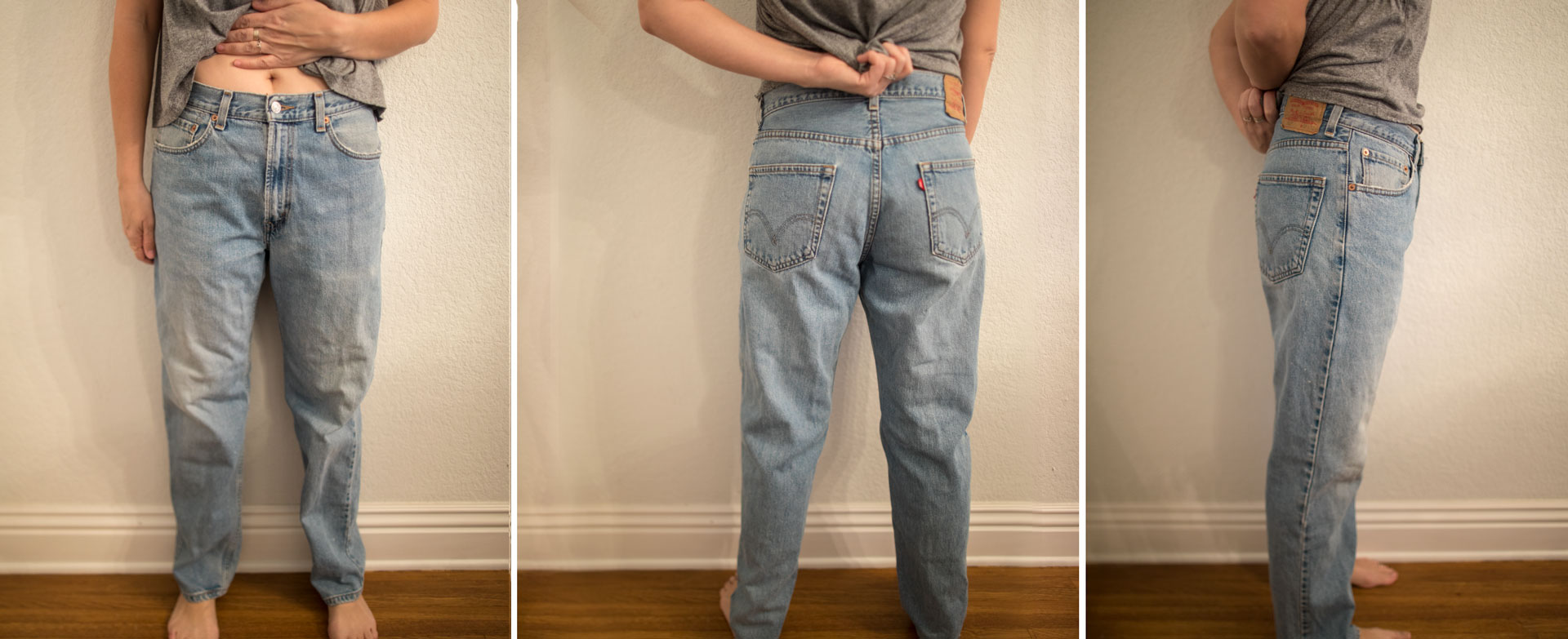 Relaxed fit has never been the jam for me.  It makes sense in theory because it's the higher rise that I like and there is more room in the thigh area.  (I don't exactly have small thighs.)  But it's a little more roomy than I am comfortable with.  And when there's too much room, it makes my thighs look bigger than necessary.  To rock the relaxed fit, you need to fill that thigh area out!  That being said, relaxed fit jeans make the ultimate cut-off shorts.  I will give these ones about a 3-inch inseam and they will never pinch or pull anywhere near my thighs.  Perfectly relaxed (uh huh) for beach/pool gear.
Mystery Fit, Men's Size 36×34 (11.5-inch rise)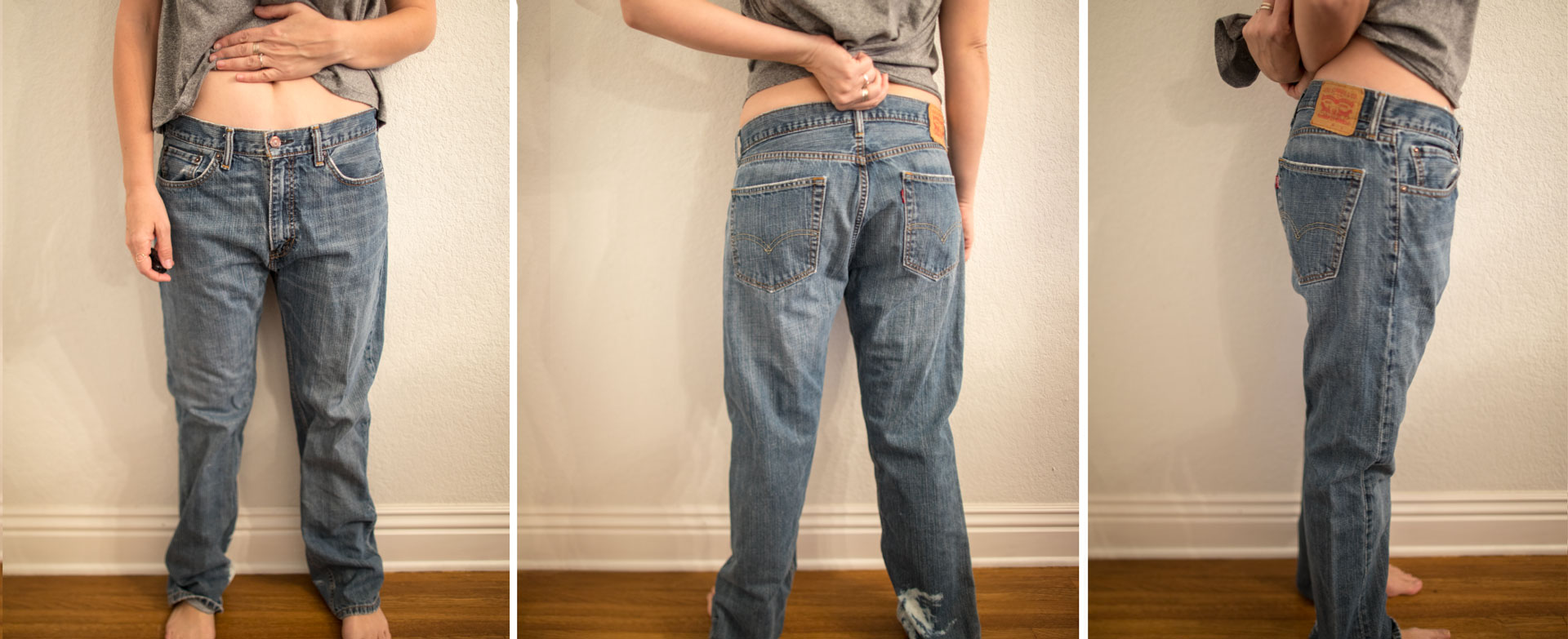 Oh lordt, I think these are my husband's size.  I should make him try them on!  They weirdly have no information on the tags anywhere, so I honestly have no idea what style they are.  But to me, when laid flat, they look like a low-rise slim straight leg, similar to the 514's.  And yes, I will eventually look for 514's in a smaller size to see how they actually fit, but this was my best option for now.  Wearing them big and low on my hips with plans for more cut-off shorts.  Listen… when Levi's are $2.99, I find ways to make them work!  Haha.  I even love the bleach stain on the back of the leg, so I'll be sad to cut them, but I guess I can always recreate that.
Wedgie Jeans, Women's Size 29 (11-inch rise)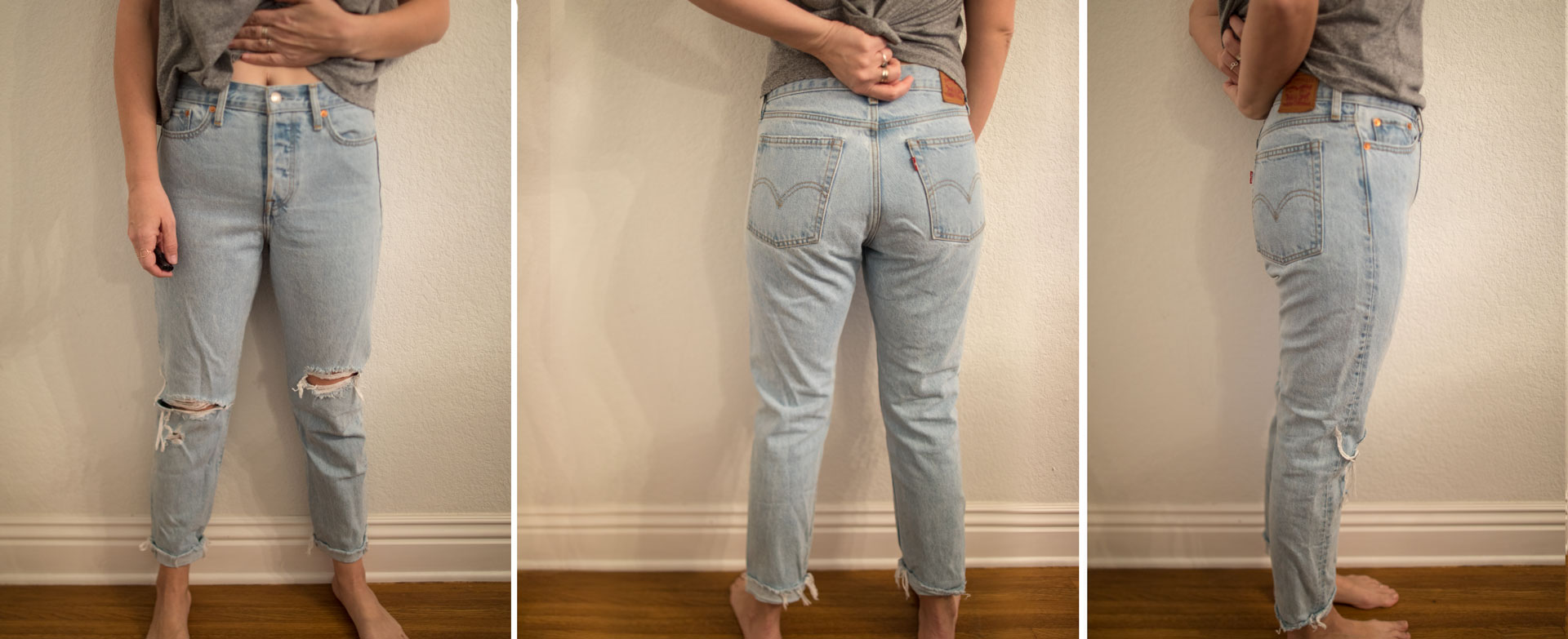 I think it's safe to say these are the NEW 501's.  They have the same wide-set pockets and higher rise, but they've been updated with a more fitted leg.  My husband doesn't understand why anyone would want jeans that widen and flatten their bum, but I just tell him my usual "you don't know fashion!"  With these, I had to size up from a 28 to a 29 because there is very minimal stretch, and they are still snug at my waist.  (Probably more suited for someone who's between a size 4/6)  I don't reach for them often because, while I like them in person, they don't photograph well.  (Too much pulling around the hip/crotch/thigh area.)  I know that's a stupid reason, but just keepin' it real.  When you take pictures of yourself on the daily, these things cross your mind.  I do think if you're having trouble finding vintage jeans, these are an easy way to get the look and feel of vintage without the witch hunt.  Plus they come in a variety of cute colors!
---
So that's what I've got to start with. As you can see, I tried a range of sizes from 29-36 and was surprised how each style fit. I'm hoping to try more along the way so the guide is a little more conclusive, but for now, I hope this gives you some idea what to look for.  As I mentioned, it will take patience!  And maybe a few wasted dollars as you test the waters.  But it's worth it when you find that perfect pair for you.
In conclusion, I wouldn't write off any old pair just because they're not 501's.
And now that I have all these extra Levi's, I will need to start selling a few of them off.  If you're interested in purchasing, you can follow me on Instagram @thismomscloset.  I'll be hosting this and future closet purges there.
Any other style of jeans/Levi's I should look for that you'd be interested in seeing me review?  Hit me up!
loves,
jaana